September 1, 2011

• Cambodia• 10 Comments • 25,652 Views
Motorbiking Through Cambodia.
The best way to explore a country is to have your own transport. Whether it's a car, a motorbike or a bicycle.
The price for a car (especially if it's a 4×4 truck, with which you can go off road) can often be very costly and not affordable for a single traveller. To go by bicycle is a great way to see a country but you need time to go around. So these were the thoughts when I decided to drive around Cambodia by motorbike…
Getting A Motorbike.
As you may already know, I am female and 56 years of age. The guys at "Lucky Motors" on Monivong Boulevard in Pnomh Penh looked a bit surprised when my sister Andrea (54) and I came in to check out their bikes ;) The decision, which bike to get, was easy: We rented 2 Honda 125 ccm. They're easy to handle & the locals use the same type of bikes, so in case of a breakdown they're going to be easy to repair or to get spare parts in any village.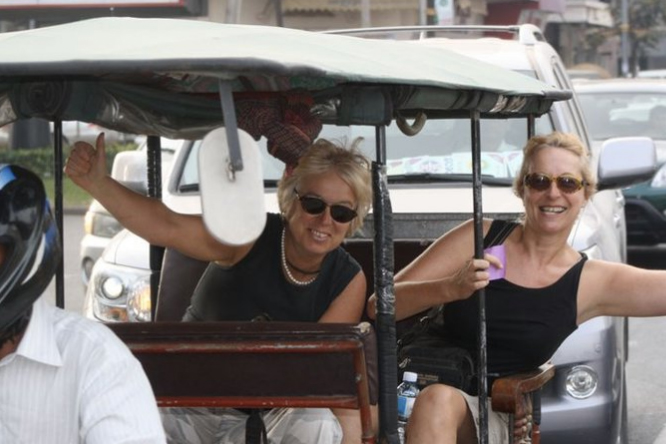 The price was around 10 US $ per day. You have to pay in advance and leave your passport with the rental agency. So bring some copies if somebody wants it (banks, hotel, etc.). Nobody checked anything from us, nobody stopped us and nobody wanted any bribes…so that part was pretty relaxing for us.
Getting Out Of The City.
My worries where with something else…The drive out of the city of Phnom Penh made me quite nervous the night before we set out. Well, all of my "fears" evaporated instantly when the first meters with the bike were against the one-way system in front of the rental shop (suggested by the rental company). Anyway, off we went, still a bit cautious until we got over the bridge out of the city. There's so much traffic, but you adjust easily.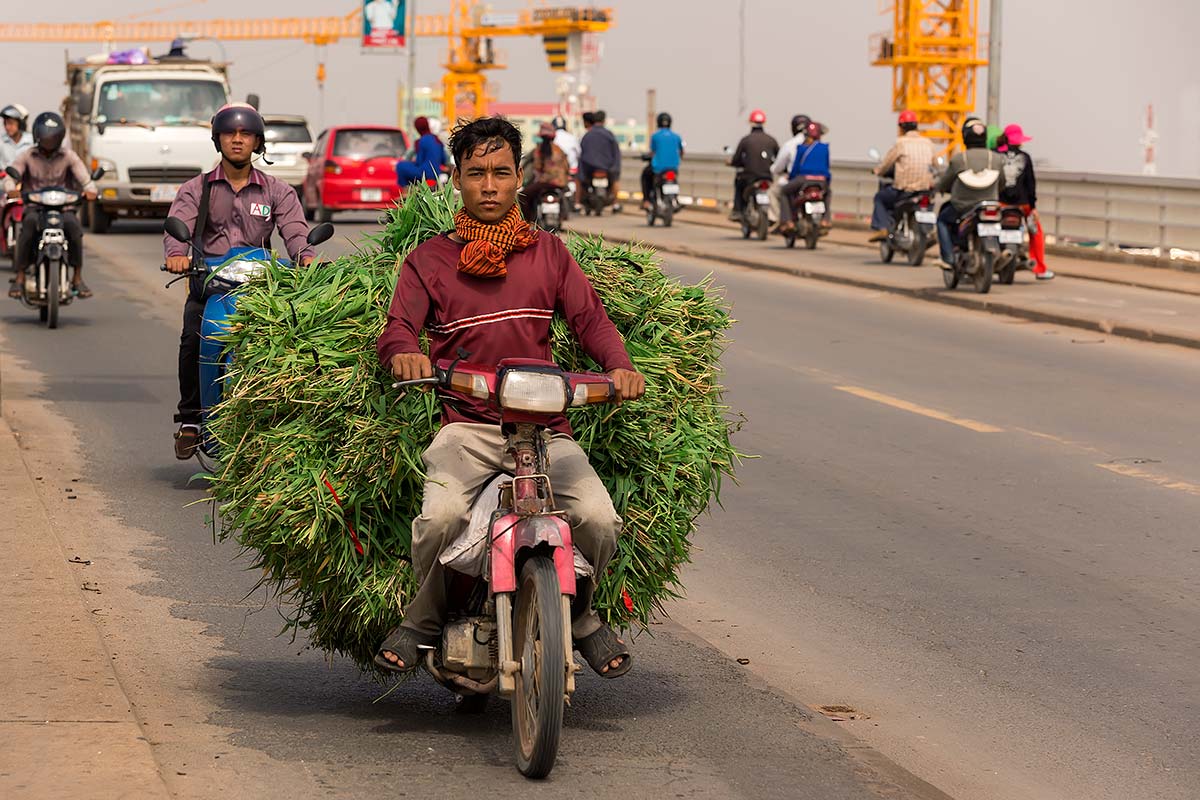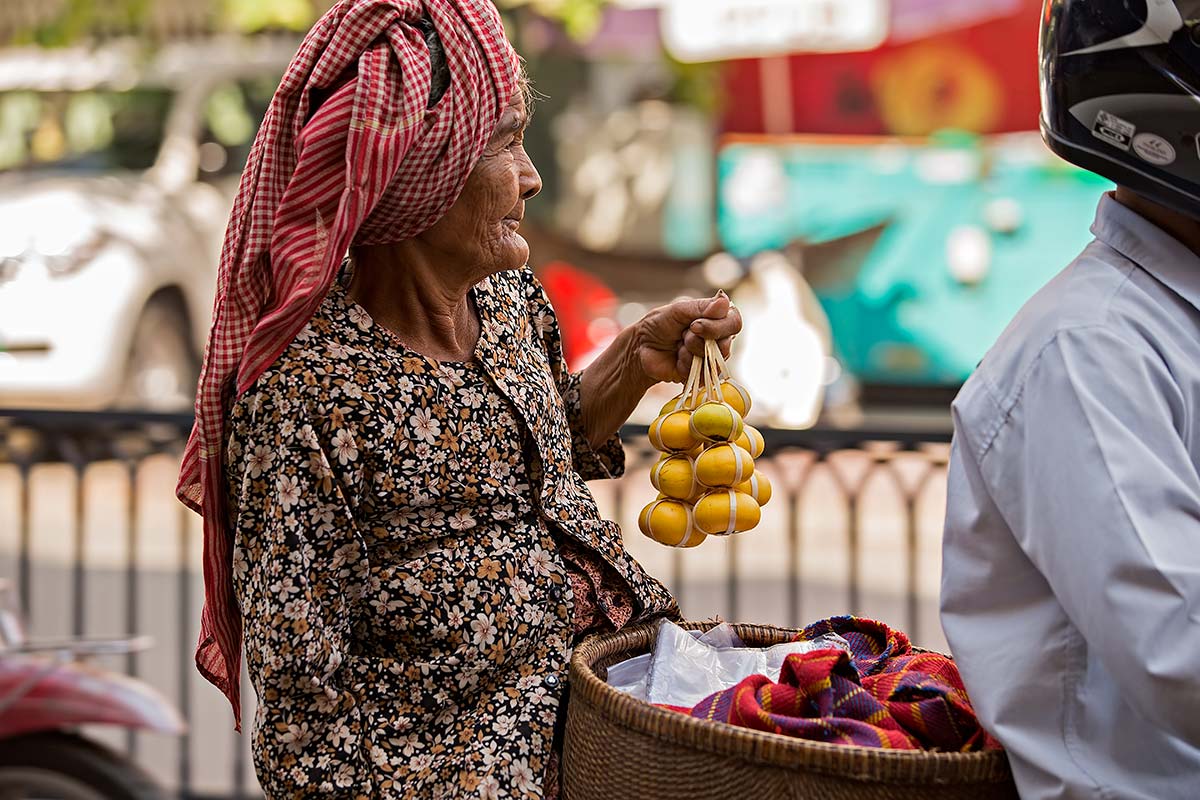 What To Bring.
One really important thing is to bring (and then wear) is a helmet. Both of us brought one from home (and all of my friends signed it for good luck which was nice) but you can buy cheap helmets in Phnom Penh as well. You should also use gloves so your hands don't get sticky. Bring long straps for the luggage, and if you intend to go off-road, a big strong plastic bag is a must – this will keep the dust off. Be prepared to be covered in dust at the end of the day!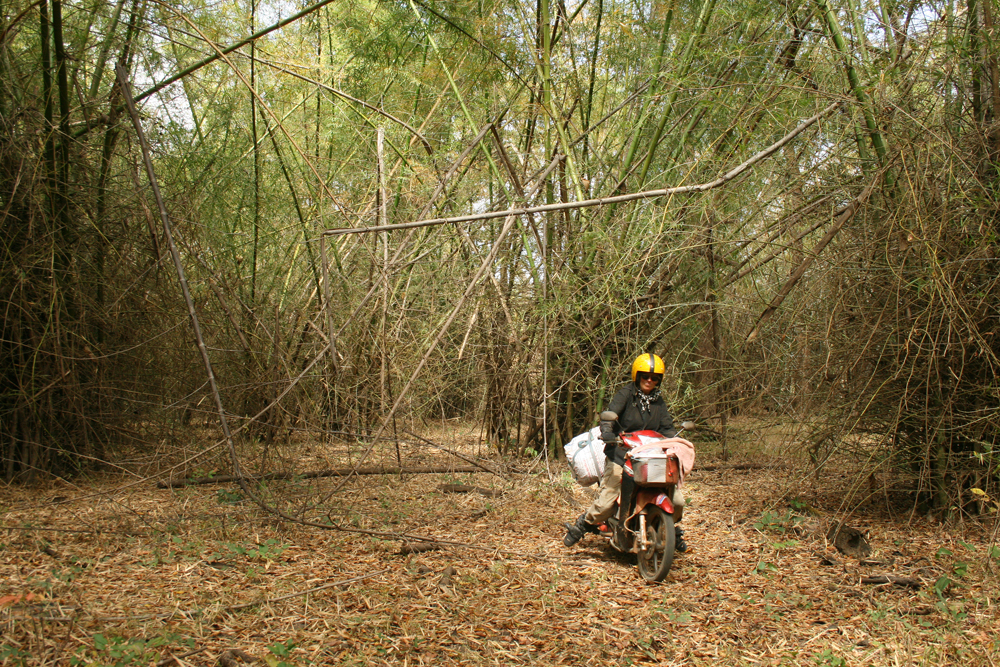 Sleeping.
For the worst case scenarios bring a hammock; we had to use our hammocks quite a few times, when no guest-house was around. Sometimes set up our hammocks in peoples gardens, who allowed us to sleep there. We even camped in monasteries, where the monks permitted us to spend the night; and well, one time we slept right in the bush. Sleeping outside can be very cold, so have a blanket ready. Overall it was an interesting and positive experience.
Further North.
We drove all the way along the Mekong river up north and then turned to the road to Banlung. They told us that the road's going to be new in some months (or years); until now it's still the old red soil road which is very (very!) dusty. During the wet season every thing's going to be covered in mud, don't know what's better…Expect to make not more than 100 km distance per day, biking is tiring when driving on potholed dusty roads.
And back south again on the "Death Highway".
After a few days in Banlung, making daytrips north to the Laos border region and exploring the area towards Vietnam, we set out south to the track that is called "death highway". It's mainly a small road, that winds its way south to Sen Monorem with very few people along the way. Occasionally there's somebody whom you could ask for direction, but they always only point south. So, for this section bring enough water, food supplies and petrol!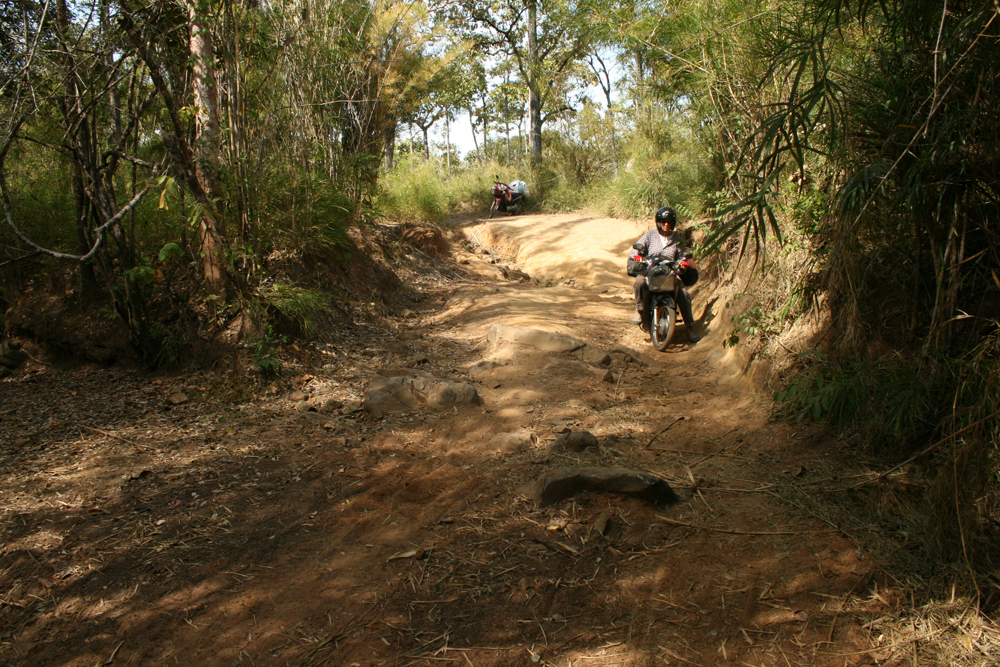 During the dry season it's a very sandy track with lots of deep rifts, so some fitness helps a lot. It's doable though, even without using these off-road 250 or 400 ccm machines. The locals drive with the little Hondas as well, so you should be fine. During the rainy season things look a bit different; this road can turn into a nightmare and only very athletic, experienced bikers should ride this section. You will have to shift through lot of mud and traversing the full creeks will need raft building skills above average.
Resume.
All in all, we drove about 1400 km in 14 days. We didn't want to rough it up, so we never drove faster than 65km/h and waited every 10km if one of us was a bit behind. We also had the bike serviced twice (oil change and washing). We always filled up the tank when it was half empty, just in case. Petrol for motorbikes is widely available in Cambodia. I can really tell you, going along the small roads in Cambodia is lot of fun; up the Mekong river you get to see villages that are rarely visited by tourists…So, did we enjoy the trip? Hell yeah! Next stop will either be Laos or Sumatra…also by bike of course ;)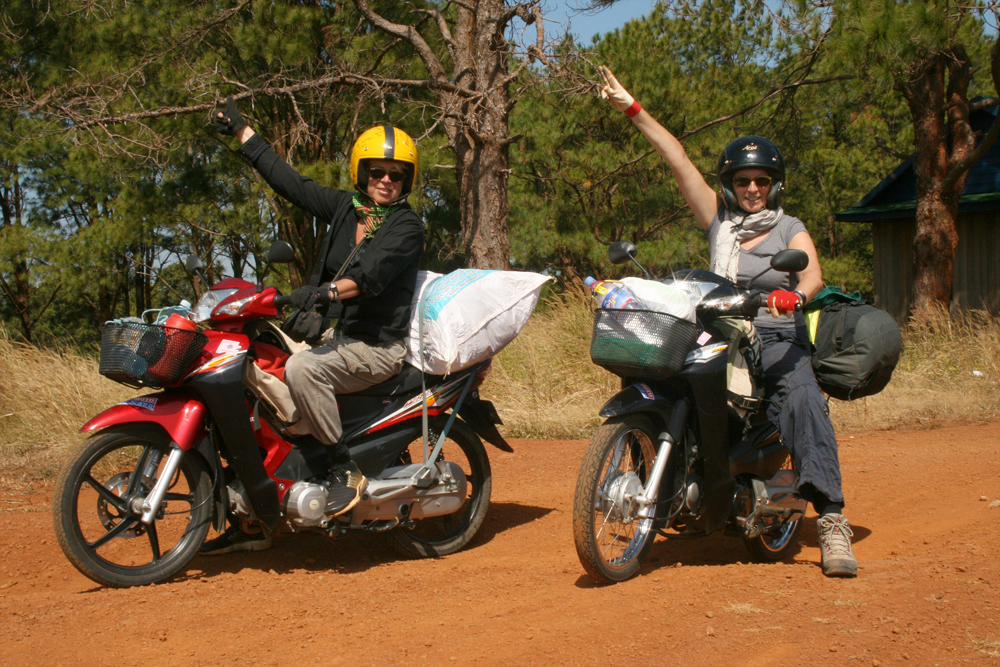 If you have any more questions about the route, the equipment, places to stay or anything else, send us your questions; we'd be happy to help you with your plans.