September 17, 2012

• China• 24 Comments • 38,839 Views
The Dragon's Backbone Rice Terraces In Longsheng County, China.
Since our visit to Yangshuo was very disappointing, the trip through China could only get better. It really didn't take long for us to realize, that we needed to leave this tourist trap spot asap. The Longji Rice Terraces in Longsheng county were our next destination.
Getting to Dazhai village was easier than we expected because everything went pretty smoothly; we walked to the bus station in Yangshuo and the bus to Guilin was ready to leave. The drive took about two hours and was totally uncomplicated. We knew that we needed to switch bus stations in Guilin to get to Heping. As soon as the bus pulled into the station and we stepped out, a tuk tuk driver picked us up and immediately brought us to the right station. Five minutes later, we were on our way. After about 20 minutes on the road, the landscape started getting much nicer and cable lines (finally) thinned out. Just after I fell asleep, the Chinese ticket man started screaming that we were in Heping and we needed to get out. It was a rude wake-up call but it was all good after we were in the truck to Dazhai.
Arriving on Dazhai village was like being back in time. It was so peaceful and calm, with fresh air and a stunning view. Dazhai is framed by world famous rice terraces that rise up to 1.200 meters: The Dragon's Backbone Rice Terraces of Longsheng County. I felt right at home since it was not that different from our little villages in the Alps. Anyway, these rice terraces are the most well-known in China and were mostly built during the Ming Dynasty, about 500 years ago but construction actually began in the Yuan Dynasty (over 700 years ago)!
After soaking up all the great energy, we booked ourselves into a nice little guest house in the centre of Dazhai, where we had an amazing room with a great view and friendly staff. It couldn't get any better than this.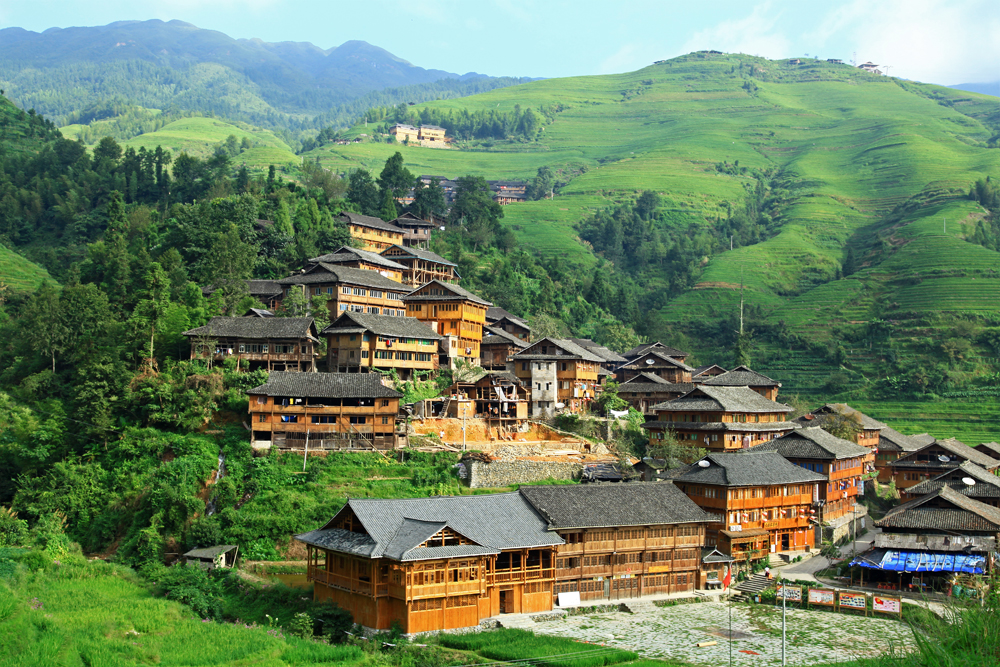 After settling in and seeing the rice terraces around us, I started realizing that it would be a very long and steep way to get a clear view from above. And I was right about that. But before we get to the stories and photos of that, I'd like to share the map of the terraces around Dazhai, since there are a lot on the internet that are just confusing and … well, wrong: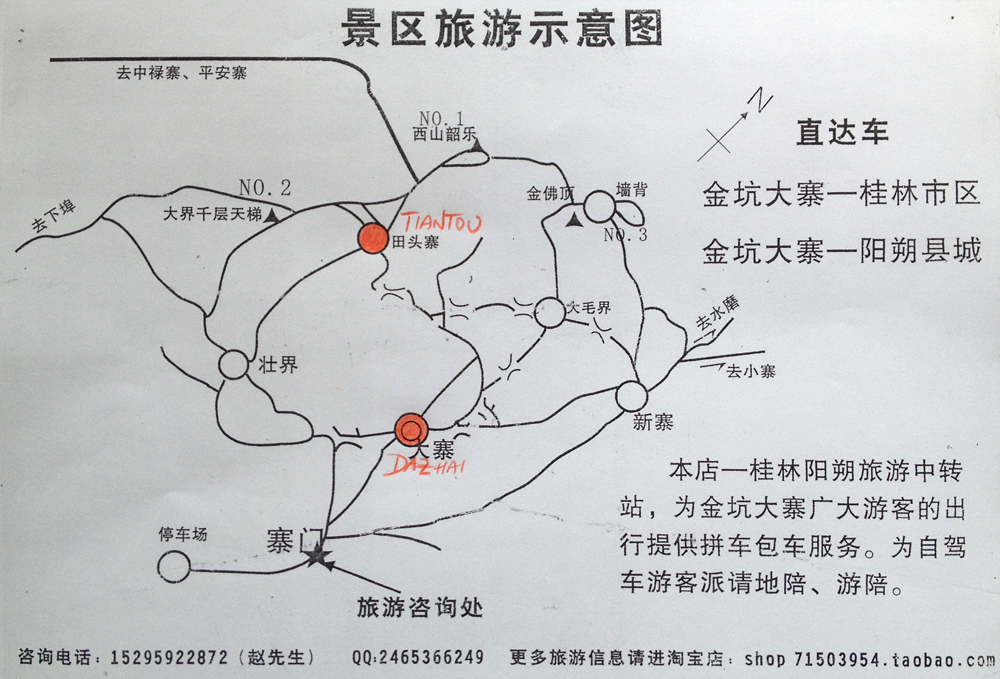 The three viewpoints around Dazhai are the best ones in the area. There is no need to visit Ping An or any other places (unless you really want to) because these three are the most stunning views you'll find. Oh and by the way: Whoever said, that you could get lost when walking around the rice terraces alone must be a complete idiot! There is absolutely no way you can get lost (unless – as said – you're an idiot); all ways somehow lead to Dazhai or Tiantou village. What can happen is that you take the wrong turn and just have to walk a couple of hours longer to get to your goal but that's it. Always bring a bottle of water and you'll be more than fine …
Viewpoint Nr. 3 "Buddha's Peak".
As Austrians, we know our way around mountains. Therefore, the three hour walk (you can do it in one hour as well but we wanted to explore the area a little bit) was like a piece of cake for us :) After what felt like about 5.000 steep steps, we got to the top and were more than impressed from the view.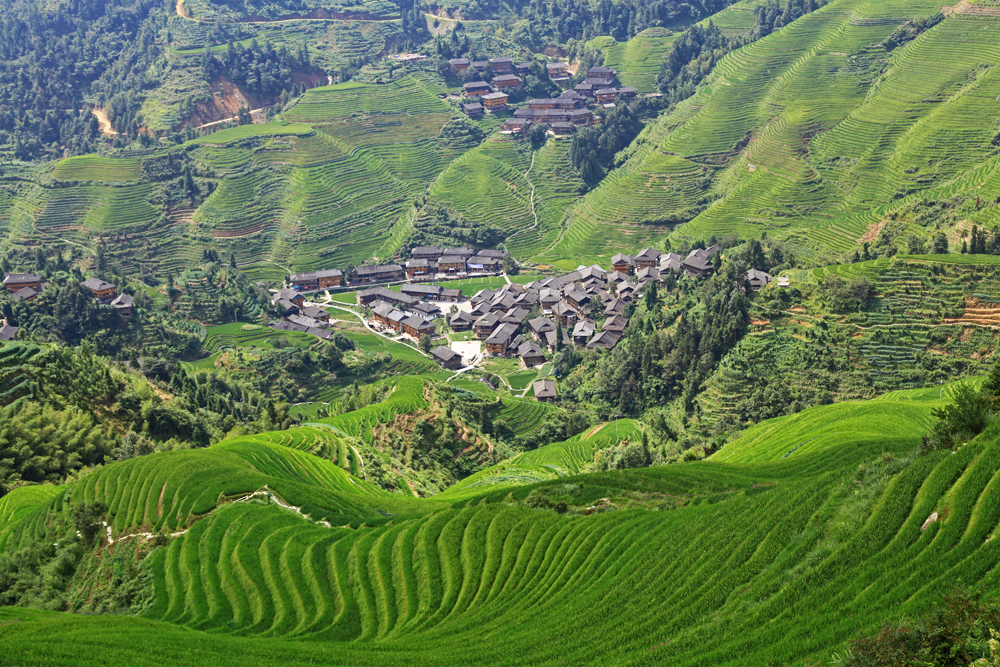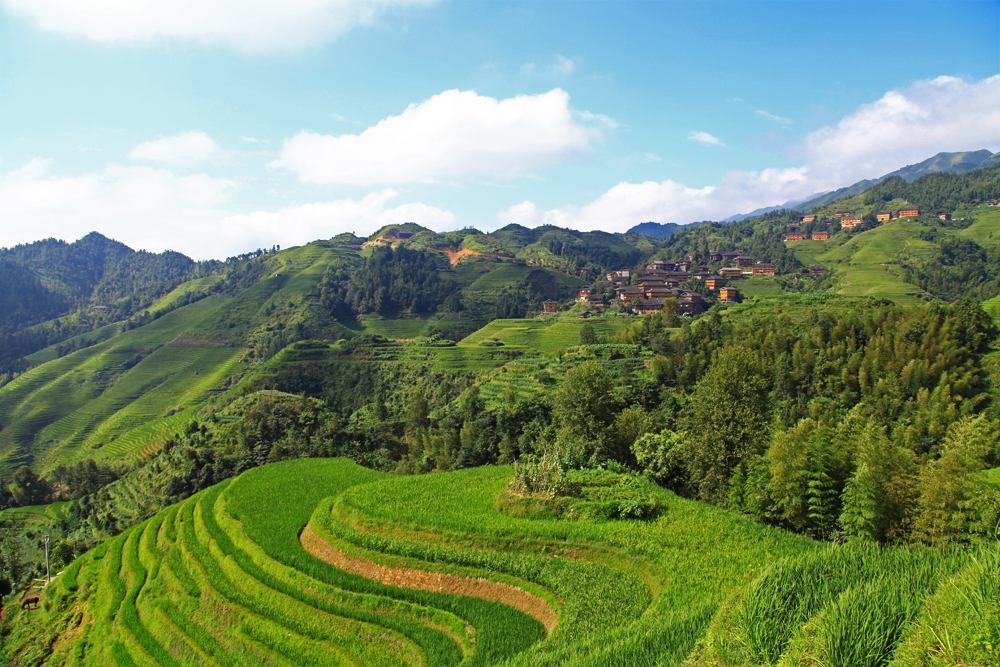 Unfortunately, the Chinese government is currently building a gigantic cable car from the parking lot to viewpoint Nr. 3 (which is the most famous one) and therefore, tourist crowds will soon overrun this place. This is definitely made for the fat and lazy … The station is supposed to be finished this October … from then on, it can only go downhill because mass tourism in China is … well, pretty massive.
Viewpoint Nr. 2 " Thousand Layers to Heaven".
On the second day, we decided to check out viewpoint Nr. 2 and Nr. 1. Getting to Nr. 2 is pretty easy because it's the lowest ones out of the three. The walk takes 30 minutes and is not that steep. Still, you have a great view of the scenery and landscape around Dazhai.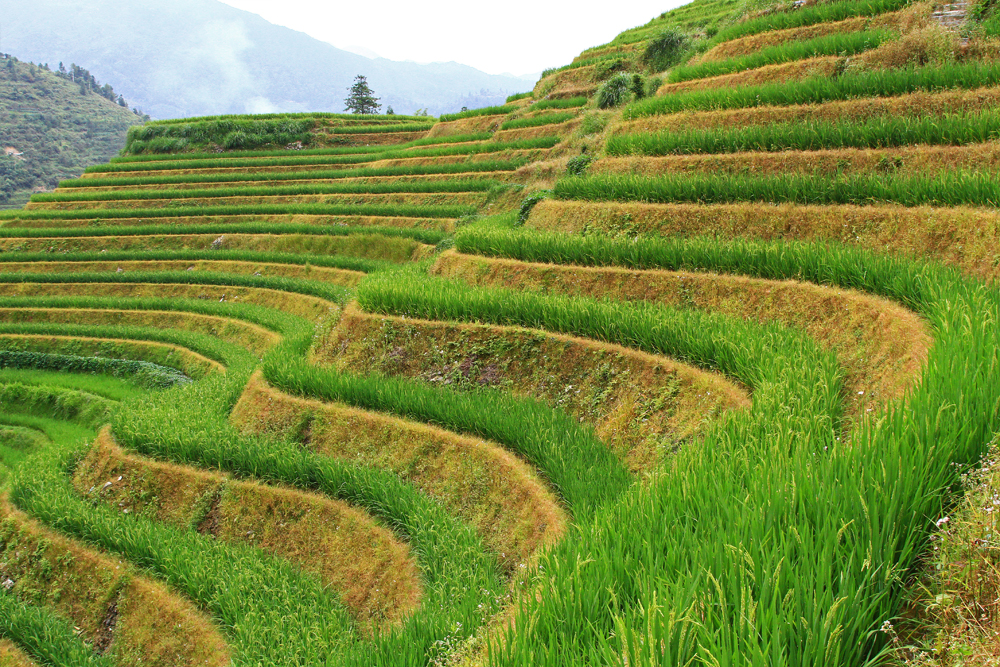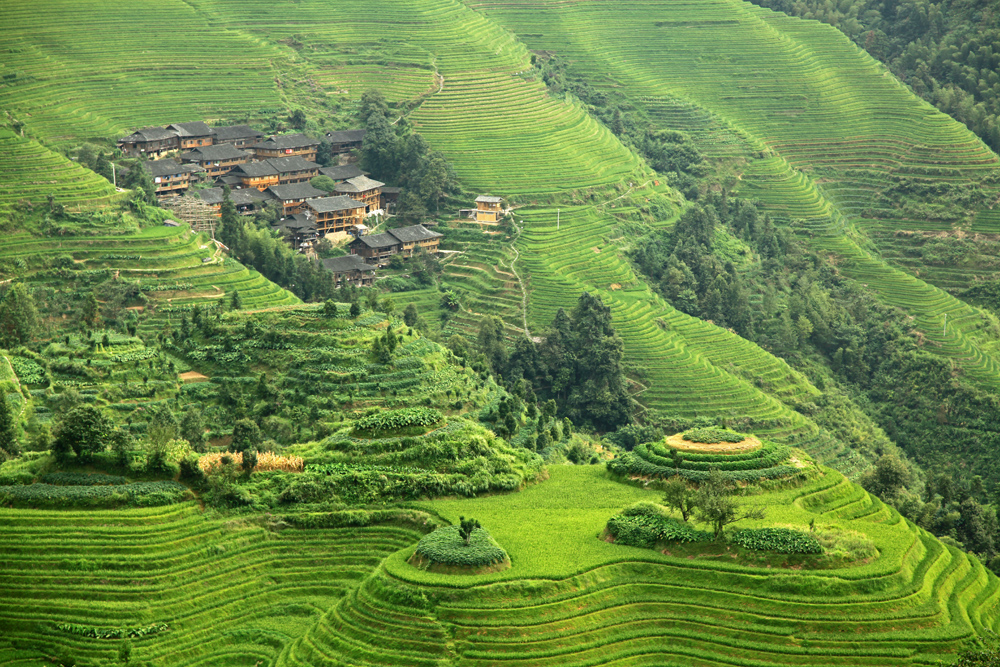 Viewpoint Nr. 1 " Music for Paradise".
Viewpoint Nr. 1 is the highest one around Dazhai. It's peak is at 1.200 meters and it takes about three hours to get up there. Again, you can probably to it on 1 1/2 hours but where's the fun in that?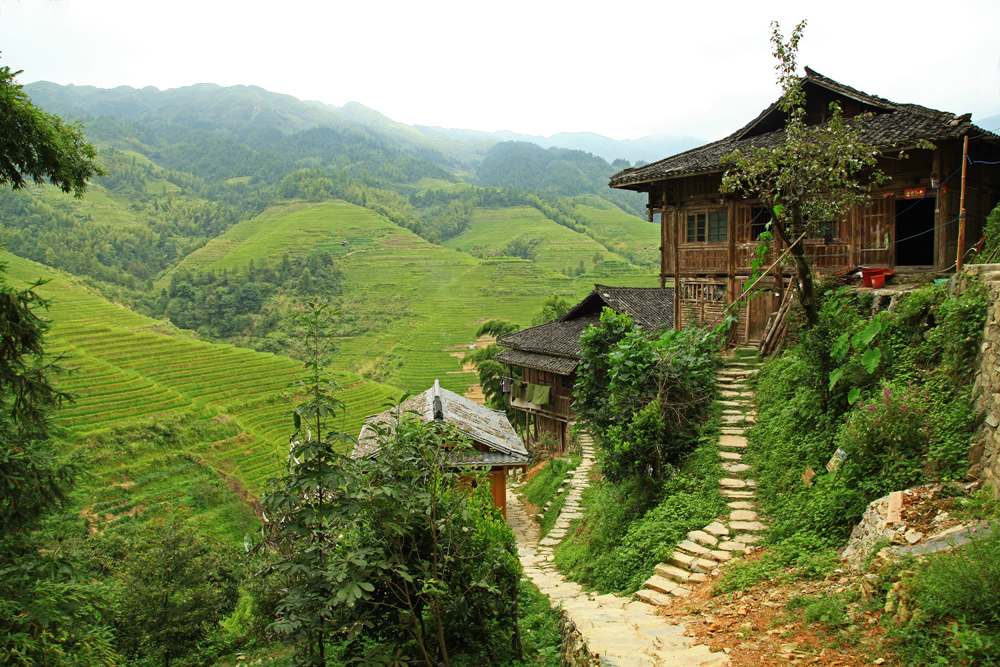 All in all, the Dragon's Backbone Rice Terraces were absolutely stunning. They truly are the most impressive we've every seen and I'm pretty sure nothing can top that any time soon. One more good thing: I though that I was pretty fit before we visited Dazhai but after we left, my bum and thighs where more trained ;) All these steep steps have a positive effect on your figure. For those who don't need (or better want) to get in shape, you can rent a palanquin with four strong Chinese men to carry you up to the top. You will surely get a lot of looks from the locals if you decide to go with this. Honestly, I thought it was the most ridiculous thing ever (unless your old or sick), especially because the ones sitting in those chairs are mostly overweight and uninterested in the scenery anyway. To each his own. We still prefer the old fashioned way of actually moving your ass :D