August 17, 2013

• India• Write a Comment • 58,669 Views
How We Ended Up On The Andaman Islands.
10 days of almost constant rain (no wonder since we trekked through the wettest place on earth during the monsoon season) leaves even the most weather proof traveller a bit tired and longing for a change. So we took out our map of India and the Andaman Islands immediately caught our attention … for several reasons: First, because we've never been and second because we always connect islands with white sandy beaches, swaying palm trees and of course bright and sunny days – which is exactly what we needed.
Booking the trip from from Port Blair via Kolkata was a bit challenging from Guwahati. Due to the heavy monsoon in Megahalya the internet connectivity was often interrupted. So we didn't have the time to check out these islands thoroughly and were on our way faster than expected.
The flight with Indigo was smooth except for the last fifteen minutes; then it got a bit bumpy and the look out of the window showed thick clouds…
Nevertheless, the landing went smoothly and Port Blair greeted us with tiny sun-rays after a heavy thunderstorm. Custom officers picked us out immediately to provide us with this very important special permit – without it, you can't travel anywhere on the Andaman Islands since police checks are very common.
After checking into Aashiana Residency guest house, we immediately walked to the jetty nearby to get tickets for the next day to Long Island. Booking the tickets for the ferry was a bit time consuming all over the Andaman Islands. As was getting a bus ticket. Try to bring several passport and visa copies, plus some copies of the special permit because authorities and hotels will ask for it on every occasion. If you're female, insist on a "lady-line" – even if there doesn't seem to be one. This will at least reduce your waiting time. So after a bit of a hassle (which is normal all over India), we finally got our tickets.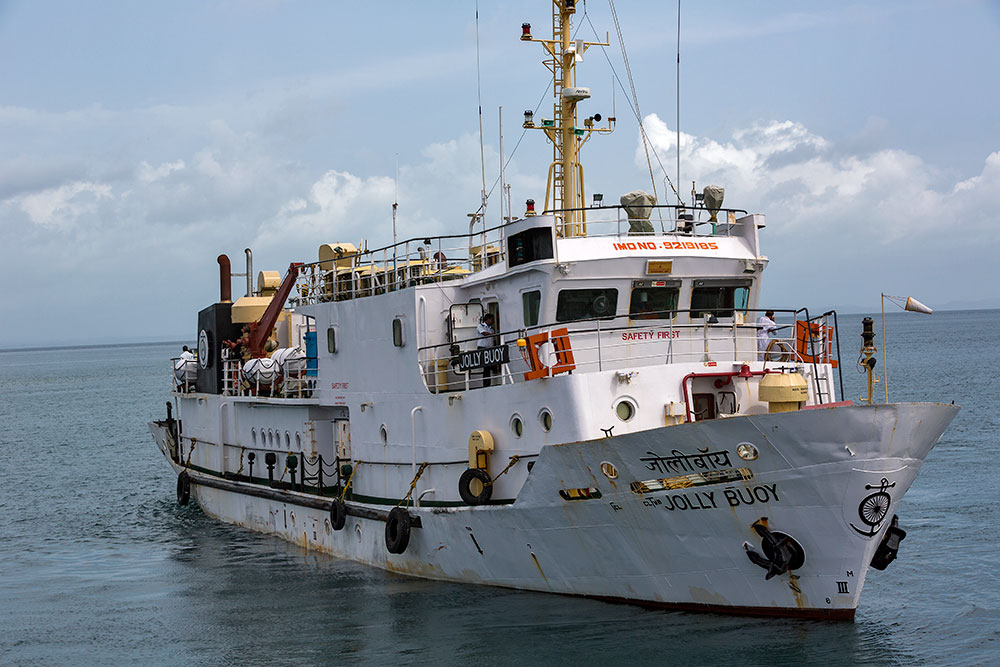 Transport & Hotels in General.
There are some rather basic hotels in some of the towns, as well as some bus companies, that wont take on a foreigner. This is because these businesses don't have the licence to take on foreign nationals. We didn't know that at first and got the explanation only after it happened the second time. It's not a real problem, but you should just calculate a little more time to find the right company to continue your trip. It's better not to be in a hurry…
Overall, transport possibilities on the Andaman Islands are excellent; ferries, buses and private Jeeps are available at all arrival points, so if you step off a ferry, a waiting taxi or a bus is almost always available. The only bus that needs to be pre-booked in any case is the bus from Port Blair to Diglipur, because there is no regular bus connection between these two towns. So after the seats are full, there's no other way to get there by public transport. In major towns like Rangat, Mayabundar and Diglipur, accommodation with some western standard are available … just tell the driver to let you out in front of one of these hotels. Don't count on any internet connection, and mobile phones reception in many areas … at certain points during our trip here, we felt like time on the Andaman Islands simply stood still. But then again, it does feel pretty nice to be offline for a while as well.
We'll write about our adventures, experiences and impressions on the Andaman Islands soon, so stay tuned.