February 16, 2015

• Bangladesh• 4 Comments • 12,712 Views
At The Wood Market & Guava Plantations In Swarupkati.
Swarupkati's guava plantations and the large wood market was the reason we took the overnight launch from Sadarghat Port. We only came across this info through the local media, otherwise this town would have never gotten our attention. We're glad it did though.
Swarupkati is definitely not a regular tourist destination. Here you have to be prepared to get as much attention – if not even more – as Lady Di got during her Australia tour. No, I'm really not exaggerating! The last time we got this much attention was during our accidental visit to Tilamuta in Indonesia (the captain of our boat got lost on the way from Togean Islands to the mainland).
What To Expect In Swarupkati.
Getting off the launch in Swarupkati was not an easy process, simply because we were surrounded by people who just stared at us. This is when it dawned on us that not many westerners have travelled to this part of the country…
A nice rickshaw puller brought us to the main street, winding parallel along the river. It was a nice ride. After approximately 15 minutes, we got to pretty much the one and only accommodation, yet it was still full with dreaming guests. The sleepy hotel manager promised us his best room around midday – at this point we'd like to thank our local friend Sabuj, who came along with us for this trip. In some cases a local translator really eases up things. Sabuj knew people in the area, and since it was breakfast-time, we went to the best restaurant in town - a real shack, with lots of people. Our arrival made quite a stir. The gossip just flew through the village the second we set foot onto the premises: "Western tourists have arrived".
After finishing our meal, it was truly an amusing experience to walk to the jetty where a boat was ready to navigate us to the guava plantations: Around 200 people watched every step of our way and hoped to join us on our excursion. It was Hello Miss here, Hello Mister there. Screaming kids, waving people and a VIP from town who came along with us (we didn't manage to find out his position, but everybody did as he said, so his VIP status was reasonable).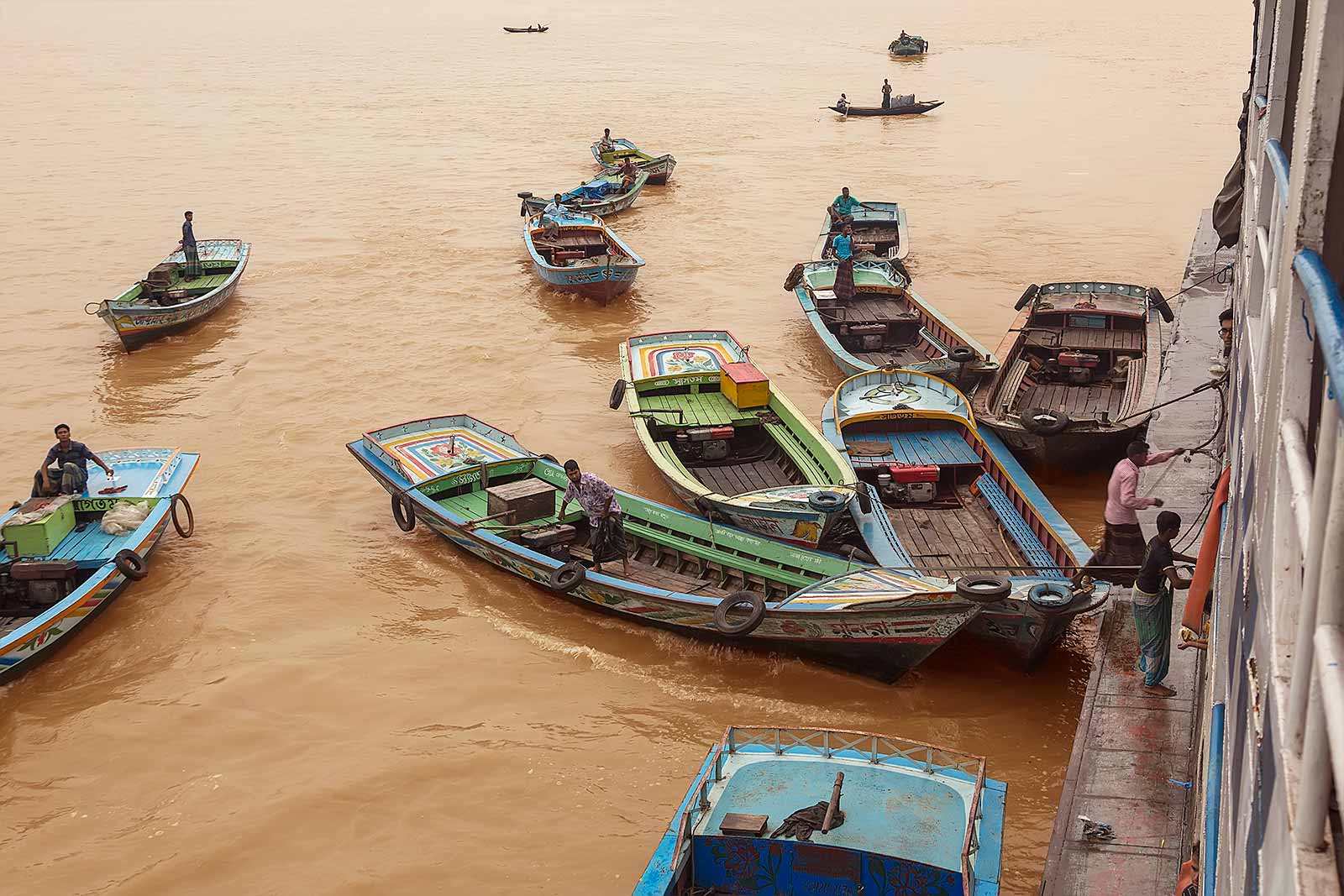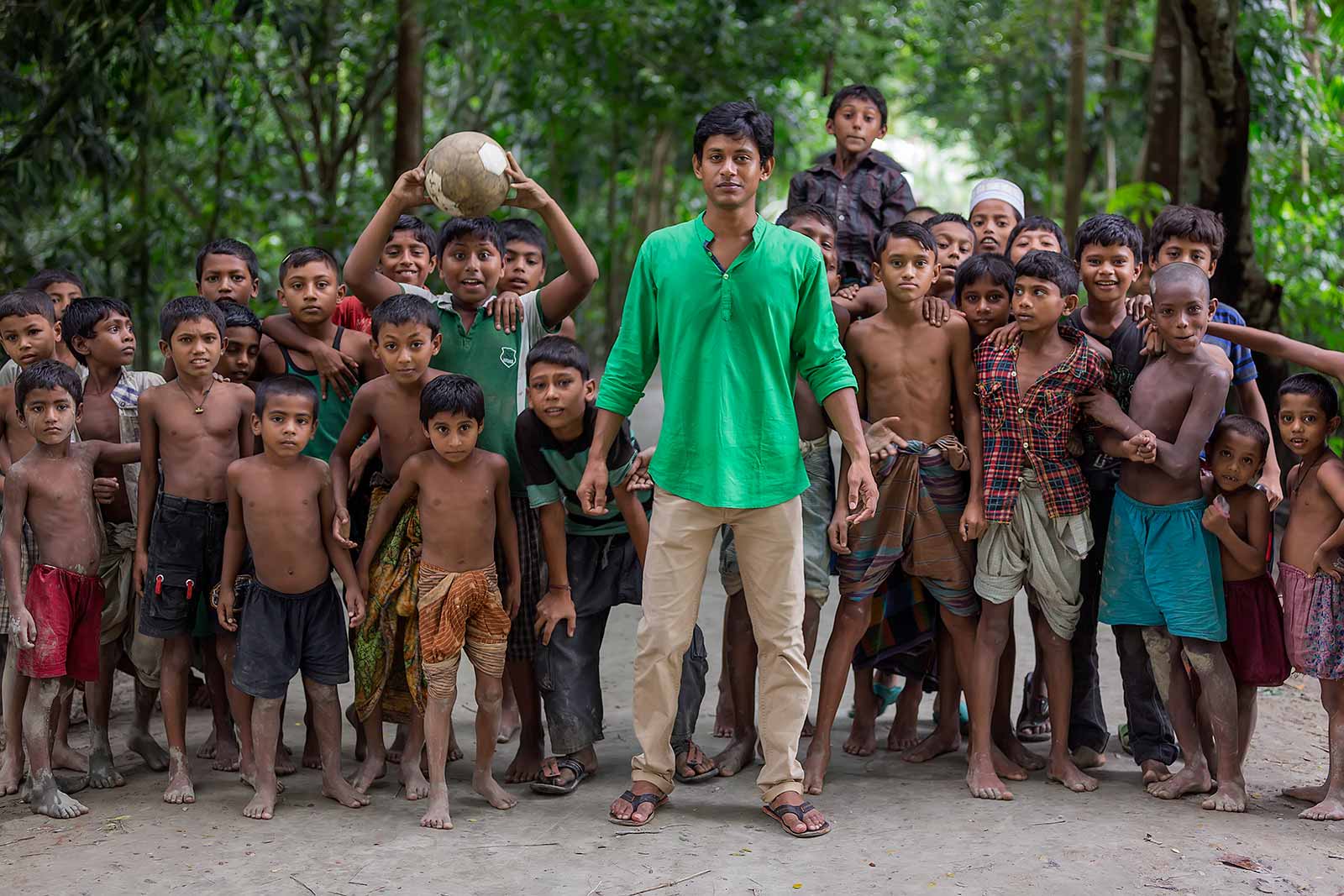 Off To The Guava Plantations.
The boat was quite large and comfortable to sit in. We crossed the river on which we had come on with the launch from Dhaka and the slowly floated into the jungle on one of the rivers side arms. The area was so different to the otherwise busy life in Bangladesh. There were absolutely no roads, therefore it was quiet and the atmosphere truly special. We could only hear the sound of the jungle and flowing water. Everything comes in and out of the region through small channels by boat, and if you're not familiar with the area, one will get lost after the first bend. It's like a maze on water; almost a bit like Venice.
Of course our boatman knew every corner of the way and we stopped several times to admire the scenery. It was so green, lush and uninhabited (apart from few families living in farmhouses). As said before, westerners are definitely not a common sight here. Every single person we came across got excited, wanted to talk to us or, in most cases, wanted to take a photo.
After floating through these jungle plantations for several hours, we couldn't help but wonder what it would be like to do such a trip with a canoe and camp in the area for a few days…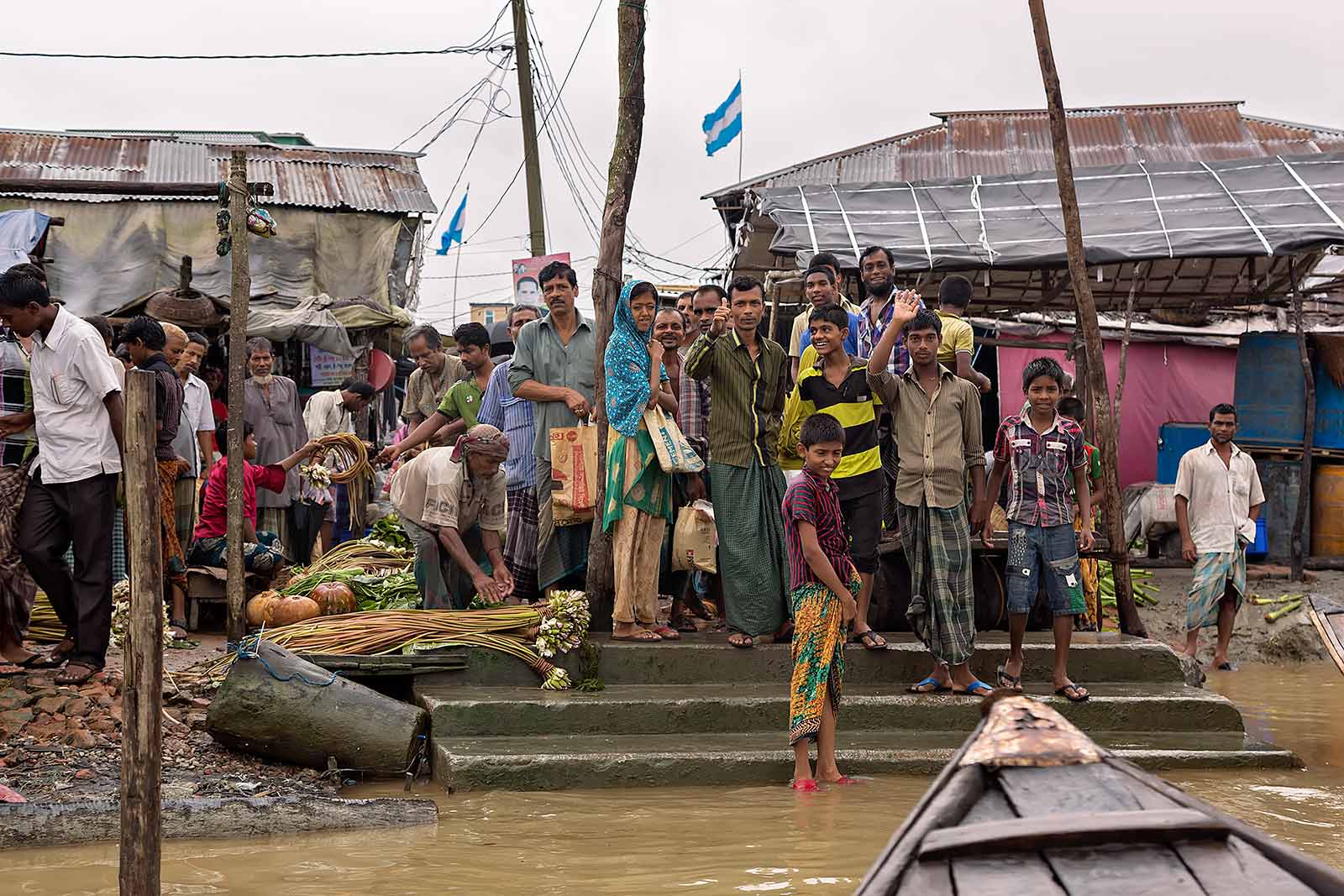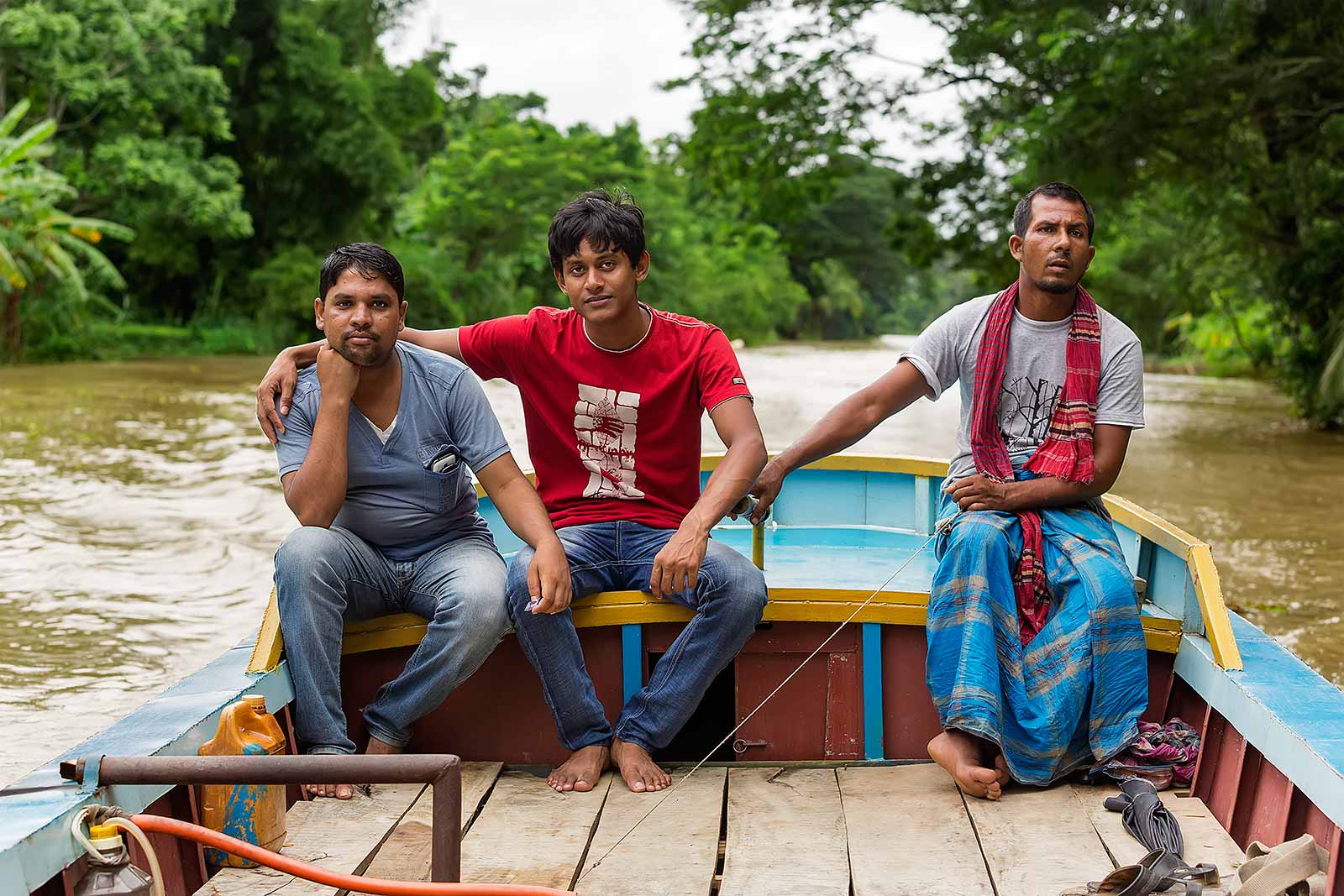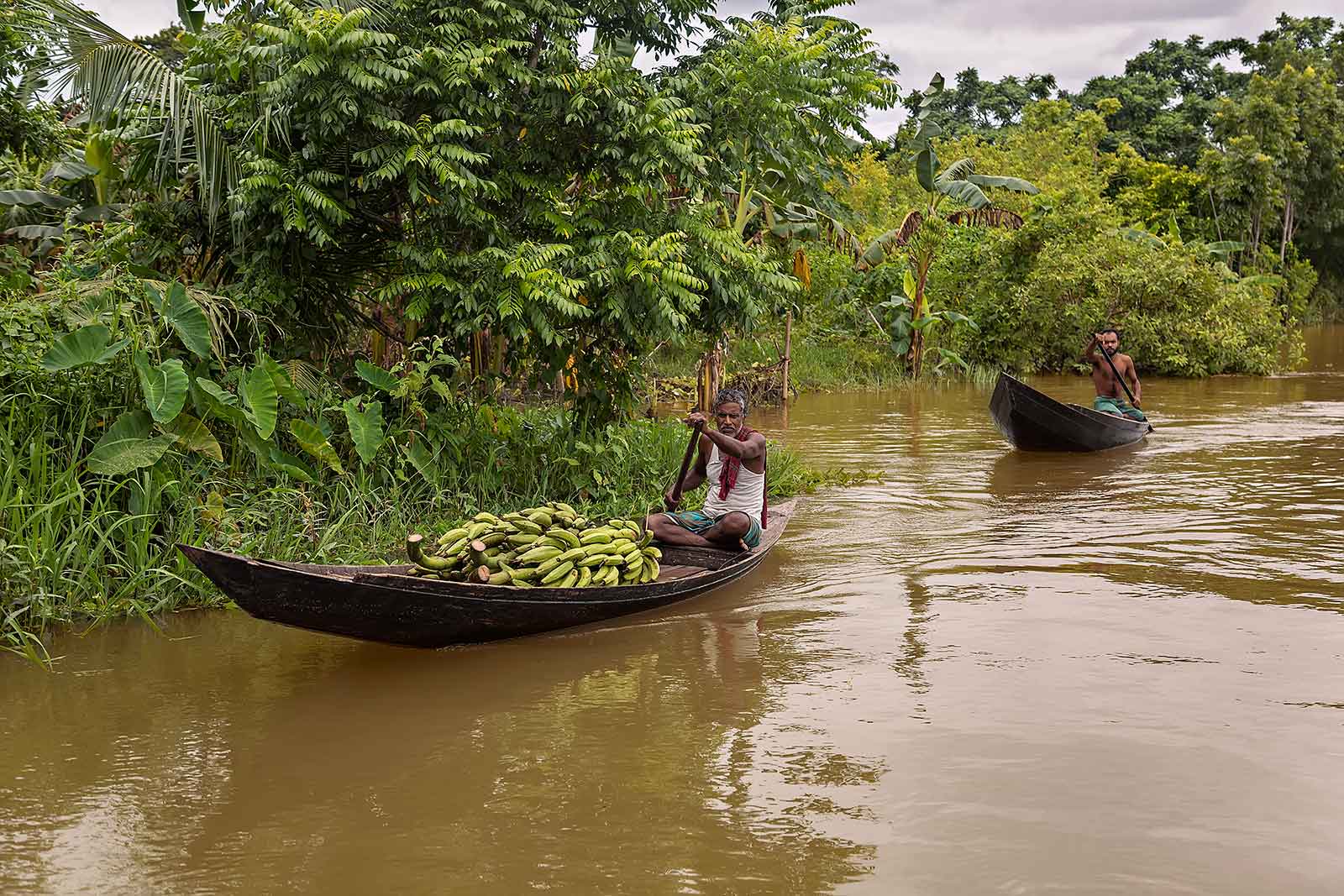 Checking Into The Best Place In Town.
When we got back to Swarupkati, our room – which was supposed to be the best room of the hotel – was ready for us. To make the story short: we decided to get out our hammocks and rather sleep in those. Sometimes, like in this particular case, it's a waste of time to complain about the room. We knew that the hotel management really tried everything in their power to make our stay pleasant, yet the room was not all that nice – especially the sheets. On the bright side, we had a balcony and could watch ships go by the river all day long. Luckily there were two windows with iron bars, so setting up the hammocks was not an issue.
Pure Muscle At The Wood Market.
After settling in, Sabuj organised a visit to the local wood market. Again, someone from the community joined us and therefore we got a really good insight on why this markets has developed here. Most people own boats instead of cars, and therefore even of huge trunks of wood are transported on water. The trunks are tied together like a raft and the boat is sitting on top of the stems. With patience, the timber can then be navigated to its final destination.