August 27, 2011

• Environment• 8 Comments • 144,855 Views
The Great Pacific Garbage Patch.
Does the name Charles J. Moore ring a bell? Probably not. And why should it? Is he a Hollywood superstar or Grammy Award winner? No. Charles Moore is an oceanographer and racing boat captain. Still doesn't ring a bell? Ok, so let me introduce him:
Charles Moore loves the ocean, especially the widths of the pacific. This changed in 1997 when he and his crew were on their way back home from Hawaii where they had just won the third place in the "Transpac sailing race". Moore was looking for a fast way to Los Angeles and therefore decided to take a short-cut through the so called "North Pacific Gyre" – one of the most remote places in the ocean. Most sailors avoid this route and fisherman are seen very rarely. Maybe this is because of what Charles Moore found out: the colourful flashing on the sea-surface doesn't come from fish but plastic garbage.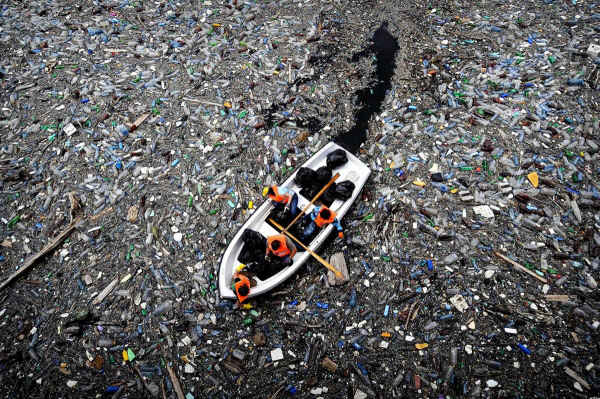 The crew saw plastic parts of all sizes floating on the ocean. Moore recognized disposable razors, bottles, fasteners, CD covers, bags and shoes. "It might sound unbelievable but there was not a single clear spot around us. It didn't matter where we looked, garbage was floating around us everywhere", Moore remembers.
As soon as he was back home, the sailor started informing the world about "the worlds largest dumping ground". The Great Pacific Garbage Patch in the North Pacific is the most well known example of a gigantic environmental disaster. Even experts can only guess its dramatic magnitude.
The Plastic Garbage Patch is twice the size of Texas. But where did this trash come from? Marine biologists estimate that about 80 % of the litter is from land, either dumped directly into waterways or blown into rivers and streams.
So, does there float one large garbage-carpet between Hawaii and the USA? Or are there two (each one as large as middle Europe)? Because the majority of garbage is underneath the surface (and in depths up to 10 meters), satellite measurings can only show the vague expansion. However it is sure that there's plastic garbage everywhere. Particularly high is the density in regions where the air current (as in the North Pacific) causes strong ocean vortexes. There are five of such vortexes that experts know of.
Water covers more than 70 % of the planet's surface. This makes our rivers, lakes and oceans the lifeblood of our planet. Many of the animals living in these habitats may be extinct very soon. Experts say plastic trash has already killed millions of sea birds and marine mammals.
Of the 225 million tons of synthetic materials (which are produced each year), approximately 10 % lands in the ocean at some point. According to the UNEP (United Nations Environment Programme) more than 100 million tons of plastic garbage float at sea.
So what can we do?
The Ocean Conservancy gives a list of 10 tips for helping out:
Volunteer for a beach or river clean-up effort.
Put trash in a secure, lidded receptacle – most marine debris starts out on land.
Properly recycle everything you can in your area.
When boating, bring your trash back to shore, and ask your marina to handle waste properly.
Less is more: Don't buy stuff you don't need, and choose items that use less packaging.
Inform and inspire your friends and co-workers to help stop marine debris at the source.
Bring your own containers for picnics instead of using disposables. Take your own reusable bags whenever you go shopping.
Write to companies or visit local businesses and encourage them to reuse, recycle, and generate less packaging.
Put cigarette butts in ashtrays, not on streets, side-walks, or beaches.
Tell Congress it's time to stop trashing our ocean. Take action now and send an email to your representative!