December 7, 2011

• Retro• 3 Comments • 44,750 Views
When Pan Am Airlines Still Set The Tone.
Huge seats and noble passengers: Both things which flight guests today can only dream of (eventhough I have to admit that on my last flight to Thailand with Air France it was quite spacious). Especially in the 60's this was different: The US airline Pan Am was the embodiment of the "golden" era of flight aviation. The passengers back then where spoilt to the max by sexy stewardess', who were the pinnacle of that time.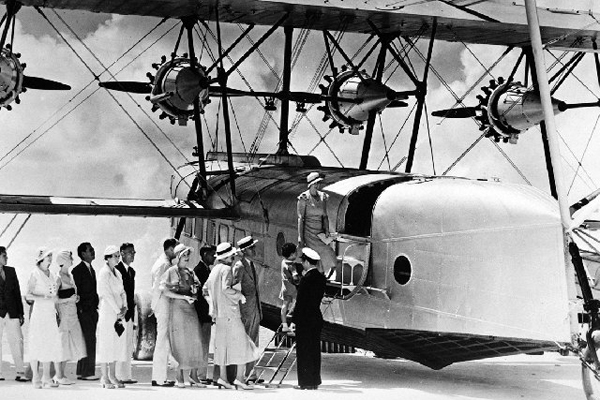 For years Pan Am has dominated the flight business – until it died about 20 years ago (this had a lot to do with the crash/bombing of Pan Am Flight 103 over Lockerbie in Scotland. The airlines was found negligent and their security measures where lacking. People simply lost confidence and stopped flying with the airline – it all went downhill from there on). The carrier started operating in 1927 with a flight from Key West to Havana. By 1930, Pan Am offered flights to many international destination. It didn't take long for the airline to become the market leader in flight aviation and innovations (such as the jet aircraft an jumbo jets).
Pure luxury.
The carrier launched first class travelling and offered their passengers in-flight movies to pass the time. In its best day's in the 70's, Pan Am transmitted the glamor of the beautiful & rich. Fashion was created just for flight purposes. Luxurious interior design, huge seats, sumptuous food, charming service and spacious smoking saloons; all of this was supposed to make flying an adventure – which of course only very few people could afford.
Desired job: Flight attendant.
Pan Am was the first flight carrier where stewards served food to passengers. In 1930, the first female flight attendant was recruited and it only took a couple of years until the job was entirely occupied by female flight attendants. The run on open posts was enormous. The jobs gave women the (rare) opportunity to have a career, even though the requirements for the desired position really made every man fantasize … Being a Pan Am flight attendant was tough; apart from the training, ones figure was very cruicial. The age limit was at 32 and being pregnant was a total no-go. Oh and if you wanted to get married … well you better waited until you passed your 33rd birthday.
Only the Logo remained.
The famous blue Pan Am logo was designed by architect Edward Larrabee Barnes in 1955 and is the most famous logo of any aircraft until today. What can I say? I totally love the retro look. Not only from the logo but also Pan Am's ads. Have a look at these old posters: