April 10, 2012

• Ghana• 5 Comments • 35,499 Views
Ghana – A Destination Full Of History And Relaxation.
We arrived in Accra just after midnight and the airport was crowded but very orderly; custom procedures went smooth along and in the early hours of a new day we fell into our beds at a nice hotel near Teshi.
The next day looked bright & clear and we were ready to hit the town to check out our driving options for out trip West. We decided on the bus to Takoradi; cheap, easy, reliable on a newly built road. No problem.
But before we left Accra, we of course had to visit the markets, so we hired a taxi for the day. A lot of things were on display and the more unusual stuff caught our attention immediately. For example snails, huge snails! We were told that they are a delicacy in Ghana. We refused politely, and the market woman didn't mind that we took pictures of her merchandise.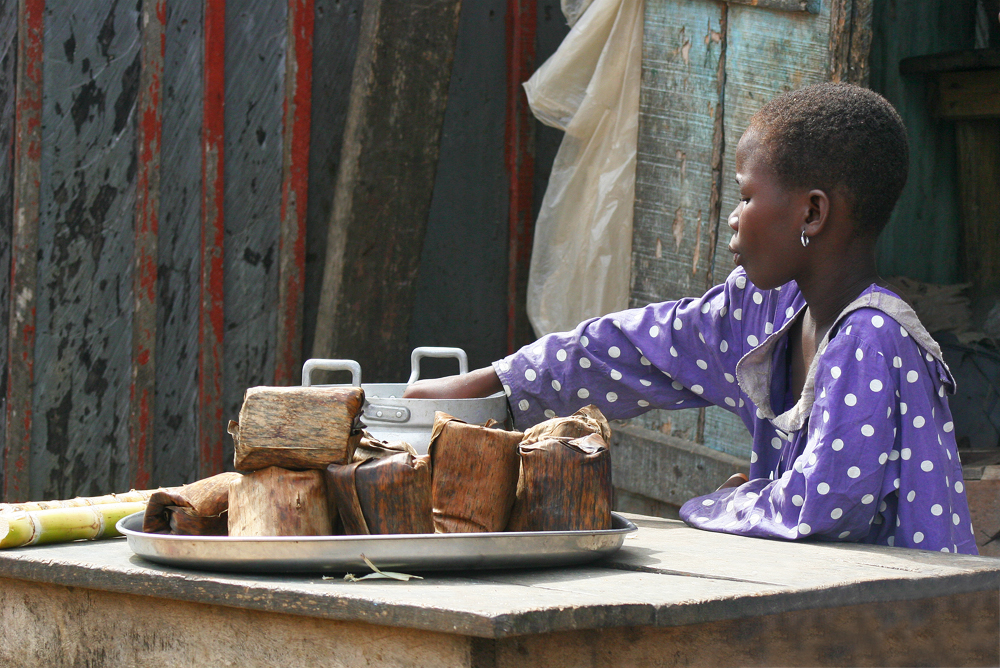 A pleasant accurate bus ride brought us to Takoradi, from there we continued by taxi to Busua. On the way you will see many people selling bush meat along the road. You mostly see squirrel or duikers and even monkeys are sold for the upcoming dinner table.
We simply wanted to go to the beach so as soon as we arrived at Busua Inn (run by a French couple) we hit the beach. The couple btw has another lodge about 20 km away in Ezile Bay on a beautiful unspoilt beach, with solar power and a few cabins. So this place was going to be our destination for our Easter Holidays.
The beach was really beautiful with white sand, blue water and a little village nearby. The village Akwiida has a little market, where you can get everything for your basic needs. You could go fishing, or if you're not the sea-kind of person, fresh fish is available everywhere. The locals wrap it into banana leaves and grill it on the beach. Yummy!
Walking along the long stretch of beach gave us an idea on daily life in Ghana, which was really nice. All in all it was a great two week trip down to the Black Continent.
Tip:
If you take a taxi back to Accra, stop along the way to visit Elmina castle. Dating back to 1492 it was built by the Portuguese and it has a very diverse past. Nowadays it's a tourist attraction and a completely renovated fort along the Gold Coast of Ghana. The famous German director Werner Herzog used Elmina as location for his movie "Cobra Verde" and President Obama visited Cape Coast Castle during his visit to Ghana, which is just a few kilometers away from Elmina castle .