August 22, 2012

• China• 25 Comments • 37,677 Views
The Truth About Yangshuo, China.
Whoever said that Yangshuo is a typical beautiful little Chinese town must really go see his physician because what you get is probably the touristiest spot you've ever been to.
If you're planning a trip here, be sure to read the following article because we will only give you authentic and honest feedback on our impression of Yangshuo. Forget Loney Planet on this. We built on the writer's impressions and fell flat on our face! What's up Lonely Planet? Where are the honest words we got in previous guides?
Anyway, our insight won't be embellished but only true and straightforward. I wish I had read an article just as honest before planning this trip because my destination would have definitely altered.
First impressions count.
We arrived in Yangshuo at 1am with the sleeper bus from Guangzhou. The bus ride itself was pretty comfy. If you're not overweight or claustrophobic, it's a great way to get a good night sleep and travel at the same time. So arriving in Yangshuo with heavy rain and no lights near the bus station was not good for a nice first impression. Luckily we knew where we wanted to go: Explorer Hotel. I read the Lonely Planet travel guide before and it said, that Explorer Hotel it was a cute & quite mid-range hotel. So we beckoned the local tuk tuk driver over and were on our way. During the 10-minute ride there, we started realizing, that this town was not a sleepy little Chinese village as we expected … Turning into the street of Explorer Hotel, it was one bar to the next with bright neon lights and loud techno music – with binge drinking highly appreciated. Seriously?! The tuk tuk driver also pissed us off when he tried to rip us off but we couldn't be bothered and gave him the 10 Yuan more. After all, it's been one hell of a long day and it didn't seem to get any better.
After checking in, the reception lady said that our room was on the third floor … and there was no elevator. Great! Two 20kg bags (one in each hand) and up we were … only to realize, that the room was already taken by someone else. Now I started to get a little grumpy. Ulli was a bit calmer since she had been on a four-week trip through Bangladesh and therefore wouldn't lose her temper easily. "So sorry Missy, please take room in first floor." So we did. The room was clean with two large beds, A/C and a nice bathroom – at least this worked out, otherwise I would have needed the consultation of a Chinese Psychologist.
It can't get any worse, can it?
The sky cleared up the next day. It was cloudy but at least the rain stopped. Still a bit edgy from what we saw last night, we wanted to give Yangshuo a second chance. It's said that everyone deserves a second chance …  yeah … who in the world ever wrote that crap?! It was even worse than the night before. Imagine Rimini in Italy. Phuket in Thailand. Kuta in Indonesia. Or Downtown Siam Reap in Cambodia. Multiply this by 100 and you get Yangshuo in China.
I really started wondering on why I wanted to come here so badly and remembered the most amazing BBC Documentary "Wild China" where Guilin and Yangshuo were described as "the most beautiful spots in China". Yeah sure, if you have the cash to fly in with a helicopter, shoot scenes from above or land in uninhabited placed. But reality looks very (very !) different: Huge highway roads. Tourist vendors along all the streets. Thousand of bamboo raft boats on the Li River. Bars and fast food places. Gigantic hotel building blocks. And of course, thousands of tourists. No sight of traditional China.
Even the fisherman with their cormorant birds were fake. Sure, they exist but they're just another tourist attraction. These fishermen don't make their money by selling the daily catch on the local market anymore. Much rather, they wait along the Li River for tourists to pass, who pay them to display their cormorant birds. By the way, the birds also look a bit pissed since no one lets them catch fish anymore…
I hope I was able to give you an insight on our impressions. Clearly you need to see a place yourself to fully understand the words but I think we did a good job filling in the blanks. Yangshuo once was a beautiful town worth a UNESCO World Heritage Site but obviously the development of the last 30 years didn't make the area any better (in our opinion); the view of the karst mountain landscape is interrupted by signs, electric wires, (lots of) plastic rubbish and all sorts of tourist attractions. One thing is for sure … to get the picture perfect shot; you'd have to be a master at Photoshop.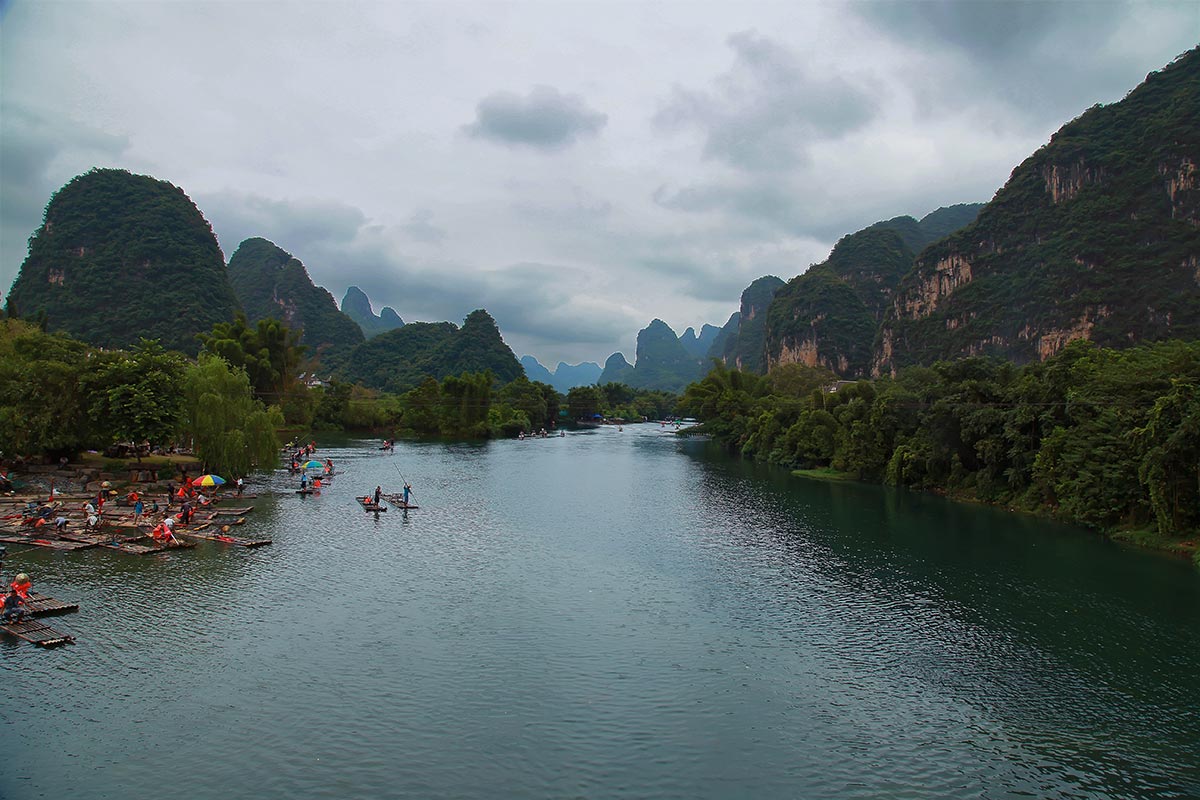 All in all, the first day here had a few down sides but also a very nice up side: Moon Hill was fantastic. This place needs muscle and stamina to access so the crowds up there are thinning. Other than than, we also visited the Silver Cave, which was a nightmare as well before heading up North to the Dragon's Backbone rice terraces – definitely the highlight of our trip!