October 9, 2012

• Bangladesh• 3 Comments • 25,315 Views
The Tanneries In Dhaka, Bangladesh – This Is Where Our Leather Comes From.
For the statistics, Bangladesh ranks among the poorest countries in the world. It's the most populated country in the world and from our point of view, the country with the most exhausting traffic situation (from the ones we have visited to far). Hardly anyone knows what's really going on in Bangladesh … some don't even know where to find it on an Atlas, let alone know what are the main income sources of this country is.
You may have noticed the label "Made in Bangladesh" in garments from well known brands. Well, RMG (Ready Made Garments) is the second largest industry in Bangladesh (first is Jute production) … After reading an article in "Daily Star" – which was the only English newspaper in the country – we decided to have a look at some of these tanneries in Dhaka. Tanneries are the places where raw hides are turned into soft leather … for shoes, bags and jackets which will then be sold in Western countries (for a lot of cash of course).
Getting There.
Getting to Hazaribagh turned out to be very easy since we had a piece paper with our desired destination written in Bangla language. The Rickshaw cycler just nodded and had a kick started his vehicle … We passed the Christian cemetery, a quiet corner in this busy city (we visited it on another day but this is reserved for a different blog post) and soon after, we were stuck in traffic yet again. It's very common in Dhaka, so you we had plenty of time to see what was going on in this part of the city. Some streets are huge, lined with beautiful trees and monuments in the middle of roundabouts. Beggars approach you constantly when waiting for the traffic to move.
Tip:
Beware of donations! If you give one beggar some money you can be sure that others will follow. They will be there in seconds and this can really be annoying at times … after all, we're not a bank ready to give out micro-credits.
The closer you get to the area of the tanneries the worse the smell gets. Why? Well, if the hides are still raw, the smell can be unbearable because you literally smell the rotten flesh. And once you are really close, you can also smell (and see) the chemicals which are used to transform a hide into a fine piece of leather. The open sewers along the roads are full of colour. That day, it black & blue. Anyway, so we finally got there but some of the tanneries refused to let us in to have a look. Others were very keen to show us around, so we got off the Rickshaw and started to walk around.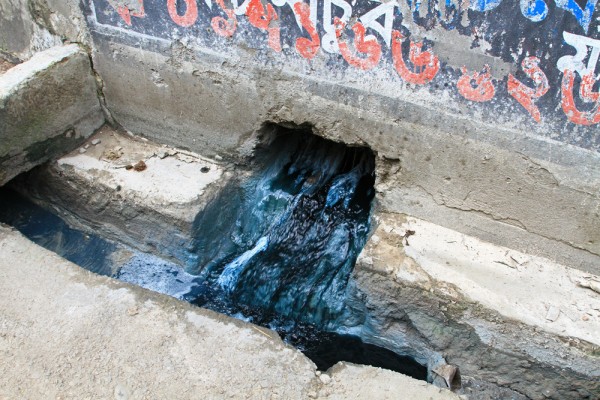 Working Conditions.
Workers are handling the skins without any kind of protection. All the toxic wastewater eventually makes its way into the Buriganga River, which is considered to be Dhaka's lifeline. Thousands of people depend on the river daily for bathing, washing clothes, irrigation of food and transportation of goods. The river has suffered extreme biodiversity loss and has now turned black.It's in the discussion that something needs to be done with all this chemical waste but the people responsible turn a blind eye to this rampant pollution and the working conditions as long as so much money is involved in that business. It's clear that working under these conditions comes at a price: a lot of the workers suffer from asthma, skin diseases and even cancer.
A worker at a tannery gets about 6.000 Taka (which equals about 60 €) per moths. For this money, they have to work 12 hours a day, 7 days a week. Unbelievable! … Very often, you'll also see child worker who are not far beyond their 13th birthday.
We were told that the workers are well aware of their exposure to all these chemical substances but they can't do much; first of all they're happy to have a job – even though it's badly paid. But at least they have a job. Protesting won' help either because the police will simply step in and they don't care if people get hurt or even shot. the workers  can leave their jobs , because another bunch of people would take over the next day, Bangladesh has an abundant mass of labourers, so as a worker you don't have many choices: either work until you get sick or sleep on the streets.
Resume.
The smell made us sick for the rest of the day and we left the area a bit despondent … these people work so hard in such dangerous conditions and yet they still manage to smile, say hello and respond with a laugh when you take their picture. What can we say? People in Bangladesh are really tough cookies!