May 4, 2013

• Burkina Faso• 6 Comments • 51,277 Views
Take A Ride On The Wild Side In Burkina Faso.
After a few days of travelling through Burkina Faso, we arrived in a little town called Orodara. We haven't really heard a lot about this place before, but the name caught our attention when waiting at the bus station. We actually just wanted to buy the tickets to Banfora, but the Orodara-bound-bus left a little earlier, so we gave it a go… The roof rack of our ride was quickly packed with all sorts of goods and after everyone boarded, we were on our way.
After a couple of hours, Orodara came into sight and just before the village, we spotted a nice looking hotel – turned out later that it was a really good choice to go for this one; we had a huge room with a nice balcony on both sides. But since the bus continued driving, we needed to make our way back there. It was definitely too long to walk with all our luggage, therefore we stopped a passing donkey cart. The cart driver was more than surprised to have "blancs" (means white people) as load, but the money we offered convinced him to take us on…
Orodara was a small town with a big market and quite a lot of merchandising going on, where lots of trucks on their way to Mali passed through. We spent a few hours walking around, buying fresh mangoes, bananas and oranges and enquired about possibilities of continuing to Banfora. We were told that this was only possible with a "taxi brousse". So we made a reservation at the "bush taxi"stand for the next day.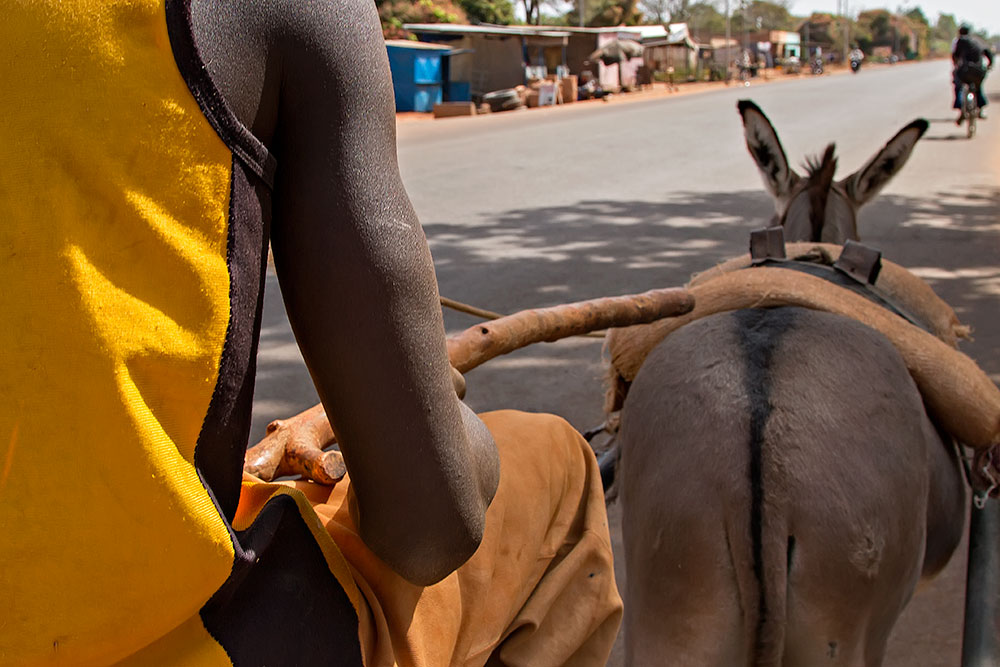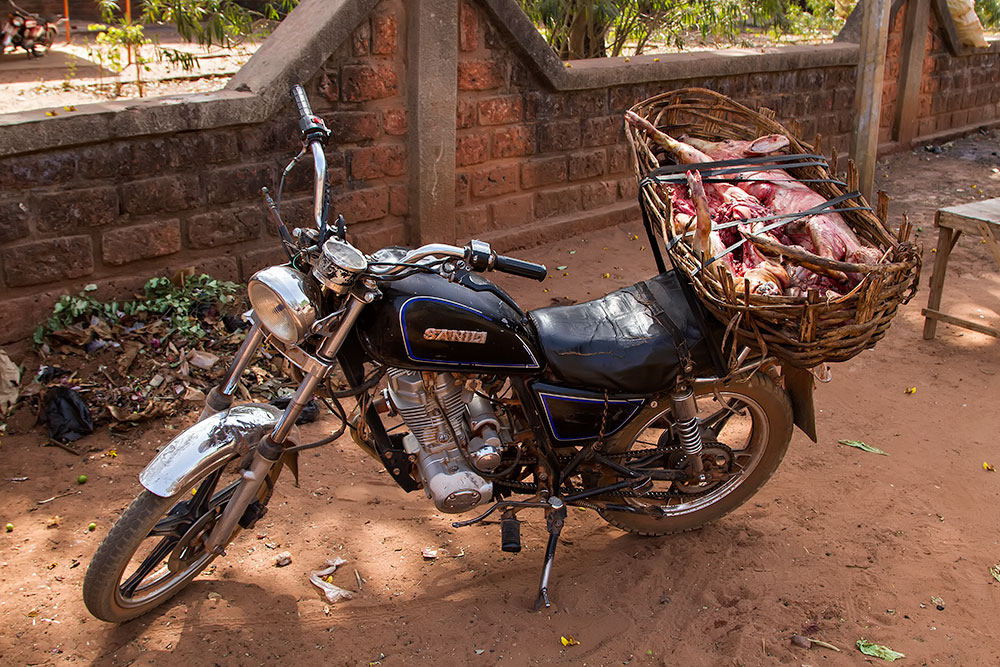 Ready, Set, Go!
A gut feeling told us to be prepared for such a trip, so we stocked up on bananas, baguettes and water. The distance to Banfora is only 80 kilometres on a gravel road, so that – normally – shouldn't be a big deal for a good car. But bush taxis tend to always need major repairs, and then 80 kilometres can turn into a great distance. Our bush taxi looked exactly like all the others: a lot of luggage on the roof rack, some goats stuffed between a motorbike and lots of baskets of chicken. It was fully loaded, to get the maximum out of the trip. 20 fellow passengers with some kids sitting on their mothers laps. Children travel for free, but don't get extra seats, so it gets pretty tight.
The kilometres started passing and the taxi stopped from time to time to let someone out or to take on new travellers. There was always a great movement on the roof with loading and unloading, so there was no chance of taking a little nap…
Big Bang Theory.
As if the noise level wasn't already high enough with the engine being at the end of one's rope, the constant, very loud & full of vim and vigour blabbering of our fellow passengers in local lingo, was definitely a challenge for our eardrums. While we where trying to figure out what in God's name they where all talking about, it was abruptly quite after a big BANG followed by the cars standstill. But the silence didn't last very long … maybe only a gimps of a second, because everyone seemed to know what happened: A broken tyre was the reason. When looking at it, we wondered how it actually made it this far…
The driver apologised to us for this interruption but we weren't really bothered. The tyre was quickly off and we pointed at the 2 spare tyres on the roof … but these were flat as well. Our input if these tyres were just for decoration didn't really help to ease the situation. But Africans are used to such incidents, so the boy in charge took the flat tyre and drove off with the next passing motorbike. Now it was time to wait; we and all other passengers settled under the nearby trees to get some shade. Some fell asleep instantly and we opened our "lunch bag" to have a nice bush pick-nick.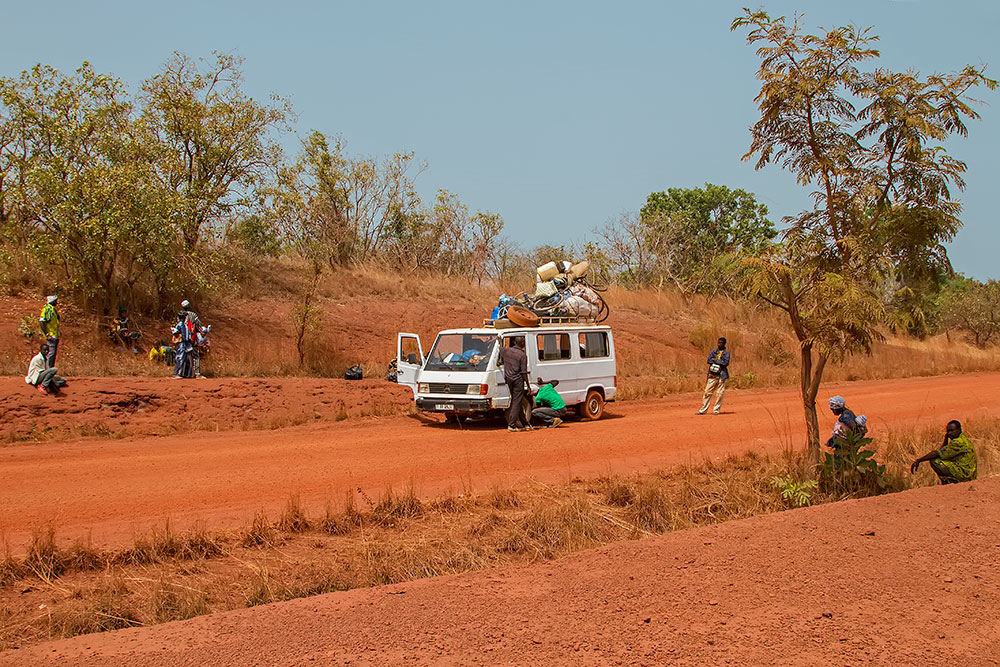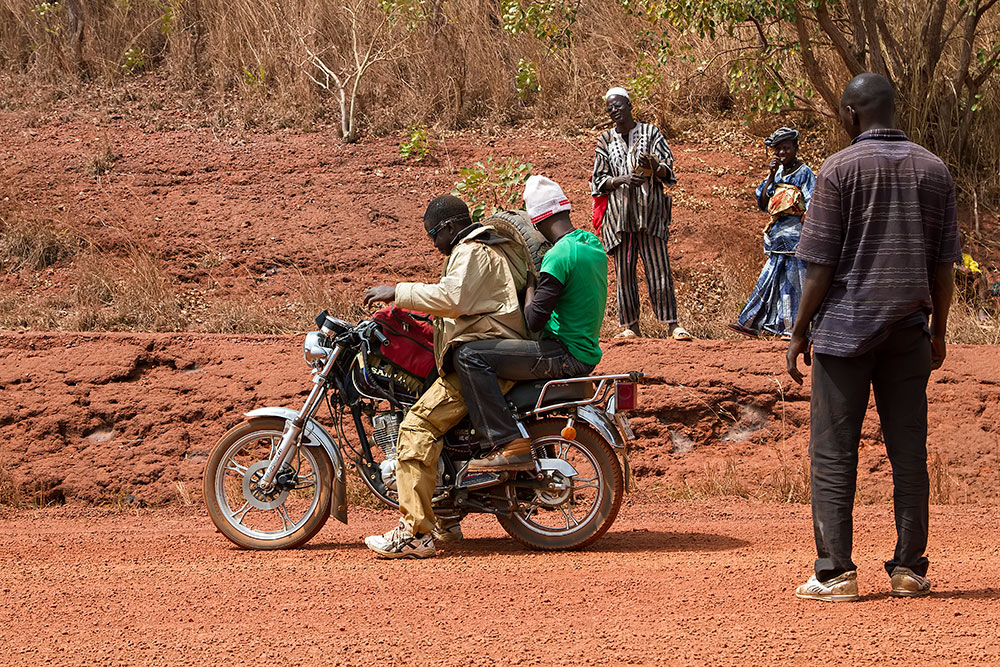 This wasn't going to be our day.
Surprisingly enough, it didn't take too long for the guy to return out of nowhere with the repaired tyre. It took 5 more minutes to put everything back in place, and then we continued our journey… But not for long. After only 10 kilometres, another tyre went flat – or to put it the right way: it was ripped into pieces. The driver started swearing in his local dialect and the boy in charge got the broken tyre off and disappeared again with the next passing motorbike.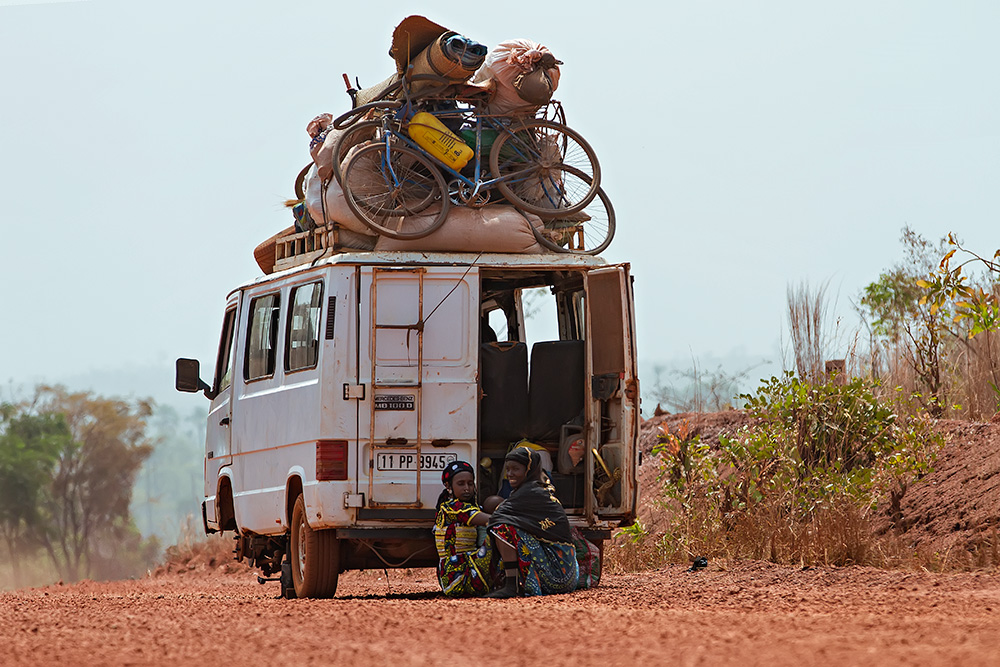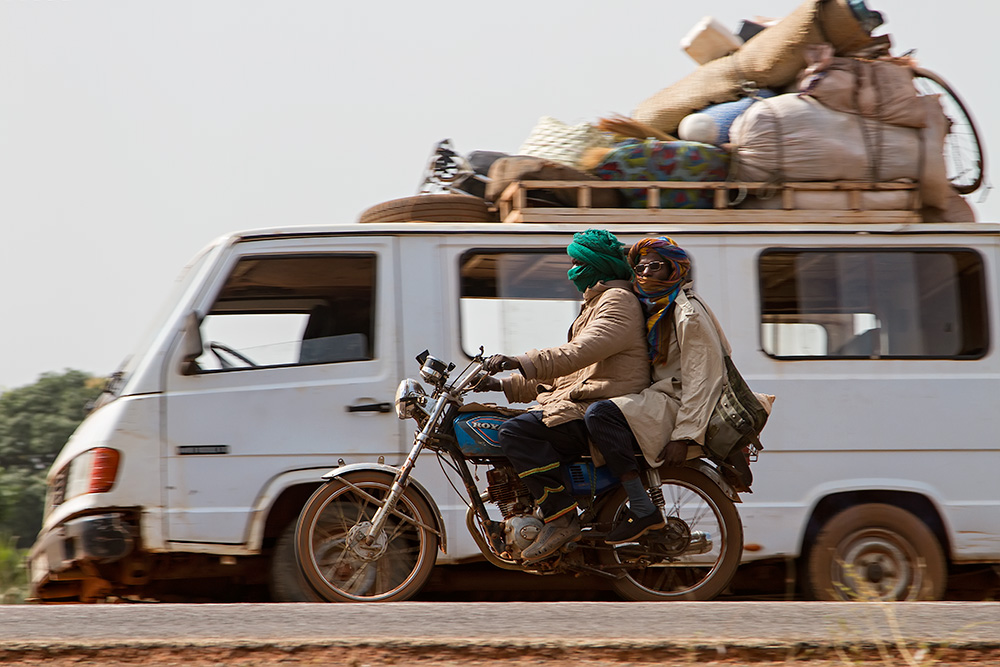 Time passed and when he came back, he proudly showed everyone the brand new tyre he just bought. Now nothing seemed to stop the car once more. But we cheered too soon, because the one of the two remaining tyres decided that this was his last ride, and we got stuck again. As before, all passengers settled under a huge mango tree and some vendors came along with fresh fruits for sale. After an hour or so, we decided to stop the next passing car to get a lift to Banfora, because it was only about 20 kilometres and we were sick of being stuck in the bush. We were not along with this thought; one of the passengers – a very very old man – joined us as we stopped a Peugeot 404, which had the cargo area turned into passenger seats. Off we were, waving goodbye to our astonished bush taxi driver…
Unfortunately, we were out of luck, because this cars engine sounded weird right from the beginning with hicks and backfires all the way. 3 kilometres before the centre of Banfora, another loud BANG rattled the car and the engine took its last breath. The driver shook his head in despair and this way it for us. We got out and decided to walk the remaining kilometres to our hotel…
After 8 hours of journey time for only 80 kilometres, we reached the hotel "La Canne du Sucre" – a beautiful place with pool – completely exhausted from this bush taxi adventure…
More bush taxis in Burkina Faso: