August 20, 2014

• China• 2 Comments • 26,567 Views
Breathtaking Views, Breathtaking Walks: Guoliang Tunnel Road.
We often visit areas that are unheard of – or at least unknown to the majority of "normal" (no harm meant) tourists. This has always been our way of travelling. When on the road, we try to document the life around us through our photographs and share stories of these "hidden treasures". One particular article caught our attention a while ago. It was about a dangerous hidden mountain road somewhere in China. Exactly what we needed to finish our seven-week journey through Asia (our initial route has changed a bit though).
Hidden Treasures.
This mountain road has been carved into stone by the local villagers not too long ago. They were simply fed up with having to climb steep & dangerous stairs and bamboo ladders to reach their homes. So, in 1972 thirteen villagers decided to start building this man-made wonder. Other villages in the area followed – some died along the way – and now, there quite a few tunnel roads to be found high up in the Taihang mountains of the Henan Province. Villagers worked for 15 years (while the major tunnel road only took 5 years), digging the roads along steep mountainside cliffs, carving tunnels and disposing the material through huge window-like openings.
Today, the area is a major tourist attraction (especially for Chinese tourists). From the early morning onwards, buses drive up the main tunnel road to a tiny village called Guoliang. Thanks to the well preserved old houses and the breathtaking scenery, this village is also a famous film location for the Chinese film industry. Apart from the famous mountain tunnel road, there is another one not too far from Guoliang that is even more spectacular…
Thank God For Binoculars.
We walked along the winding road, continuing upwards while scanning the area through our binoculars. It was actually the first time since our travels through Africa in the 70s & 80s, that we took along a pair of binoculars. You have to understand, travelling with a super heavy, bulky and unhandy gadget on our trips is not on our main agenda – we have about 20kg of camera equipment as it is. And after all, this is how we remembered binoculars.
Well, a lot has changed since those days. Thanks to Swarovski Optik, we had the opportunity to try out the CL Pocket 10 x 25. It took us a while to get used to the new feeling (compared to the old bulky pair), but that changed pretty quickly. This pair of binoculars is super light-weight, contrasts and colours are brilliant and the viewing comfort is truly amazing. No, we're not trying to persuade you, but it really made our trip to the Guoliang Tunnel Roads even more worth while.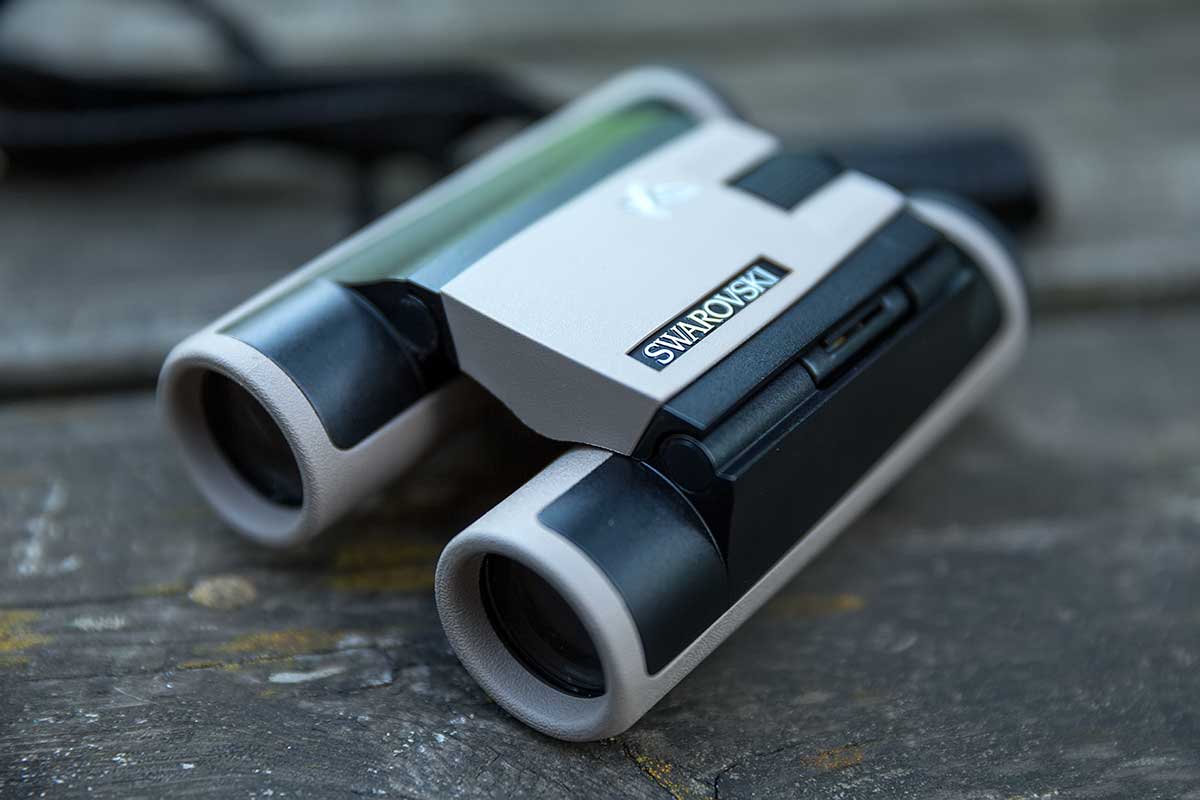 Surprise, Surprise.
It was foggy up in the Taihang mountains and it wasn't easy to recognize the far-away scenery easily. We continued scanning the area, when in the distance, we saw lots of holes in the centre of the mountain. Even further away we also spotted a cable car and some strange looking buildings built into the mountain. We would have needed at least two more days to check it out, but unfortunately our time was limited. When planning this trip, we had no idea that the area was packed with these many surprises. Therefore, we're already counting the months until we re-visit for at least 10 days or longer…
Handy Information.
Since in Guoliang (& its surrounding villages) almost nothing is written in English, we'd quickly like to give you some hints if you decide to visit the Guoliang Tunnel Road any time soon:
Bring a Chinese dictionary and be prepared to be very patient with transport and accommodation.
How to get there (it's a bit of an Odysseé): From Xinxijang East train station (high speed train station), take bus number 66 to the city/old train station. From here, take the bus to Huixian. At Huixian bus station you have to take another bus directly to Guoliang or to Nanping. Allow at least 5 to 6 hours to reach this place from Xinxijang with public transport. And make sure to have every destination written down in Chinese, otherwise who knows where you'll end up…
Sometimes you don't have to go all the way to the last stop, so do try to ask some of the locals. Not all Chinese will ignore you…
The advantage of travelling by bus? Almost no costs, so it's a good option for a single traveller with patience and time.