March 2, 2015

• Oman• 5 Comments • 96,436 Views
A Road Trip Through Oman: From Muscat To Salalah.
After our trip through the mountainous region of Jebel Shams in northern Oman in February 2014, we decided to give the southern part a go on this year's trip. What we had definitely underestimated a little bit was the sheer distance – 1.023 kilometres from Muscat to Salalah (with the shortest connection).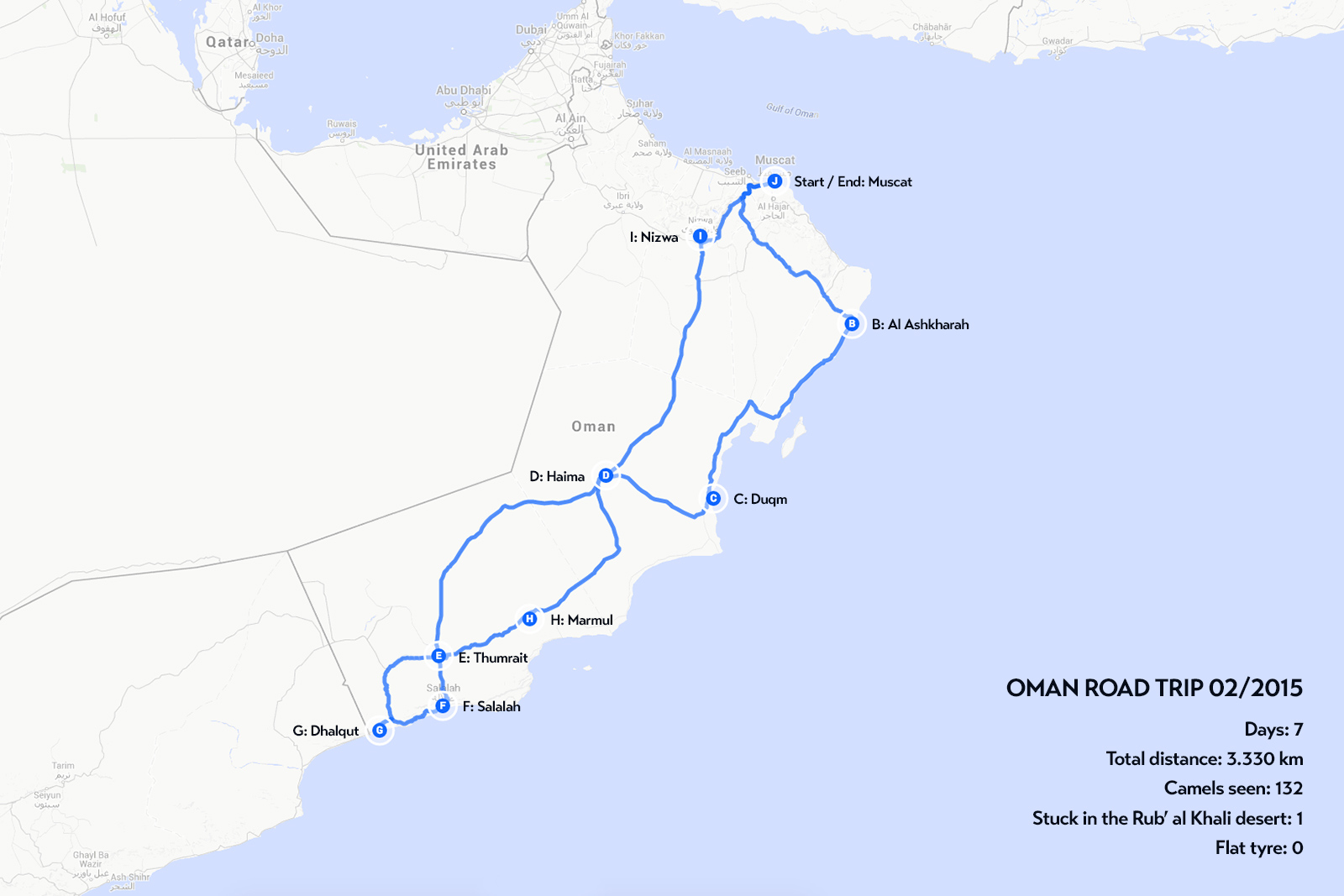 Driving From Muscat To Al Ashkharah.
We decided to drive along smaller roads from Muscat, partly through mountains, along fluffy sand dunes and irresistible beaches. It took us the entire first day until we finally arrived up at the coastal village of Al Ashkharah. It's not really a tourist spot and there were just two hotels to choose from – good enough for us. We were the only tourists in sight and it turned out that the village was more interesting than we thought at first.
Things To Do In Al Ashkharah.
Most of the activity happens directly at the beach with fishing and trading. Watching the fishermen (or better their Toyota's) pull in the nets was what kept us there for quite a while. Driving along the coast, we stopped at several beach locations where fish was just hauled in or boats were ready to go out. Huge freezer trucks were ready to be loaded with fresh fish and thousands of seagulls flew around just waiting for their chance to steal some fish.
As Al Ashkarah is the only village for many kilometres around, a lot of market activities are going on every morning, which also makes this place worth visiting.
Continuing Further West – With A Little Detour.
Somewhere past Masirah Island we took a wrong turn and only realized a while later that we were on highway 37, inland to a place called Haima. It was not on our agenda at first, but we continued and Haima turned out to be a cute little city with few hotels, good restaurants and a petrol stations From here we drove to Al Gayfah. This town is actually just an in-between stop to fill up you tank. We stayed at the only rest-house there was, which was actually not that bad.
Travel Tip: Make sure you fill up your car as soon as it's half empty because sometimes even petrol stations can run out of gas – or the petrol station is closed due to renovation (happened to us in Al Ashkharah).
From A World Heritage Site To Salalah.
We continued our trip with a side trip to the UNESCO World Heritage Site of Shisr, the Land of Frankincense. It was a 40 km off-road trip through the desert, sometimes with pretty deep sand. You pass an agricultural area, where different plants grow for further commercial use. Huge water irrigation systems are needed to turn the desert into a blossoming oasis. Shisr was a lonely village. Hundred of years ago, it was the last stop where water could be found before the long enduring trip north through the Rub' al Khali desert. Nowadays only one frankincense tree is left and that's about it – sorry to say, but this World Heritage Site is not so worth visiting.
Once you come closer to Salalah, the area starts to become more interesting again, with mountains rising just behind Thumrait. Salalah and the ocean can be seen in the distance when arriving from the north – quite an impressive picture.
What To Expect In Salalah.
Driving into Salalah is like driving into a big city with huge palm tree lined Boulevards. Salalah is spread out vastly, but only 100.000 people live here. The largest building is the Sultans Palace facing the ocean and a lot of streets near it are closed for the public, as well as the beautiful white sand beach.
We were tired and checked into the Al Nile Hotel, a super nice and clean place with perfectly working internet for only 20 Omani Rial. Nearby was a supermarket and a bakery, which was very convenient.
Salalah has an old market where you can satisfy all your frankincense needs; beside that, the market is a bit uninspiring and the entire area has the clock ticking before it's torn down completely to make space for new buildings. Along the beach an entire strip of the city is already abandoned while bulldozers and heavy machinery is tearing down the houses. We were told that new housing complexes for government officials would be built here. Somehow it reminded us for an earthquake zone and people must have left pretty much over night, since you could still find all sort of things inside…