March 5, 2014

• New Zealand• 10 Comments • 105,565 Views
Tongariro Alpine Crossing: A Must When Visiting New Zealand.
When planning my trip to New Zealand, there were three things I wanted to do for sure: Rangitata Valley, the Milford Track and the Tongariro Alpine Crossing. Ok, I admit that there were a couple of others as well, but I revolved everything around these three.
Since I flew into Auckland, the Tongariro Alpine Crossing would be my first hike in New Zealand as it lies on the North island. It's supposed to be one of the (if not THE) best one-day-treks in NZ. And I have to say (so far I can only agree).
A Few Facts About The Tongariro Alpring Crossing.
The Tongariro National Park is actually New Zealand's oldest national parks and a World Heritage site. The three peaks – Mt. Tongariro, Mt. Ruapehu and Mt. Ngaruhoe (aka 'Mt. Doom') form one of the most spectacular landscapes in all of New Zealand. Mt. Tongariro and Mt. Ngaruhoe are still active volcanoes so one has to check the volcanic activity before attempting the track. Also, be sure to check out the weather before, since this can change in an instance. Be prepared for any weather conditions. On the day I went I was luck to have sunshine almost all the way.
Total Length: 19.4km (without any side trips)
Time needed: 5-8 hours (depending on your fitness and not including stops or side trips)
Altitude: Start at Magatepopo car park approx. 1.000 metres / Red Crater approx. 1.900 metres
Tracks: Apart from the Crossing itself, there are three additional side tracks: Soda Springs, Mt. Ngaruhoe (approx. 2.300 metres / add another 3 hours) and Mt. Tongariro (approx. 2.000 metres / add another hour and a half)
Fitness level required: The track runs over steep volcanic terrain, so a reasonable level of fitness is required. If you decide to hike up Mt. Ngaruhoe, you definitely be to be very fit!
Magatepopo Valley to Soda Springs (1 to 1 and a half hours).
You start your way through the Magatepopo Valley on even terrain. Then the track climbs alongside a steam and around edges of old lava flows.
Soda Springs to South Crater (1 hour).
The track climbs steadily. When gaining the 340metres to the South Crater, you'll have  spectacular view on a clear day. Those wanting to climb up Mt. Ngaruhoe (including me), turn right at the top.
Mt. Ngaruhoe (add 3 hours).
After about one hour I got to the base of the volcano and decided to conquer 'Mt. Doom'. So with about 20kg of camera equipment as well as water & food supplies, I went on my way with a few other crazy peeps. Oh and it was quite a way. There is no marked route up the top, so you just have to find your own way (which is not too difficult I might add). The first 30 minutes are not too difficult, but once you get to the steep way up, be sure to have both hands ready. The rocks are super sharp and lose and the way up very tough. About half-way in, I realised that this was also the way down, which made me a bit nervous. So after about 2 and a half hours, I reached the crater (which is not the top top yet) and had to rest for a while. I then continued to the top and have to admit that I was pretty proud of myself for doing this without any training before. The defend only took me about 30 minutes. You pretty much run down the loose scoria and hope for the best. I fell once and my leg looked pretty bad afterwards, so watch your step! Was is worth it? Heck yeah. Would I do it again? Yes, but with less equipment because those 20kg really killed me in the end.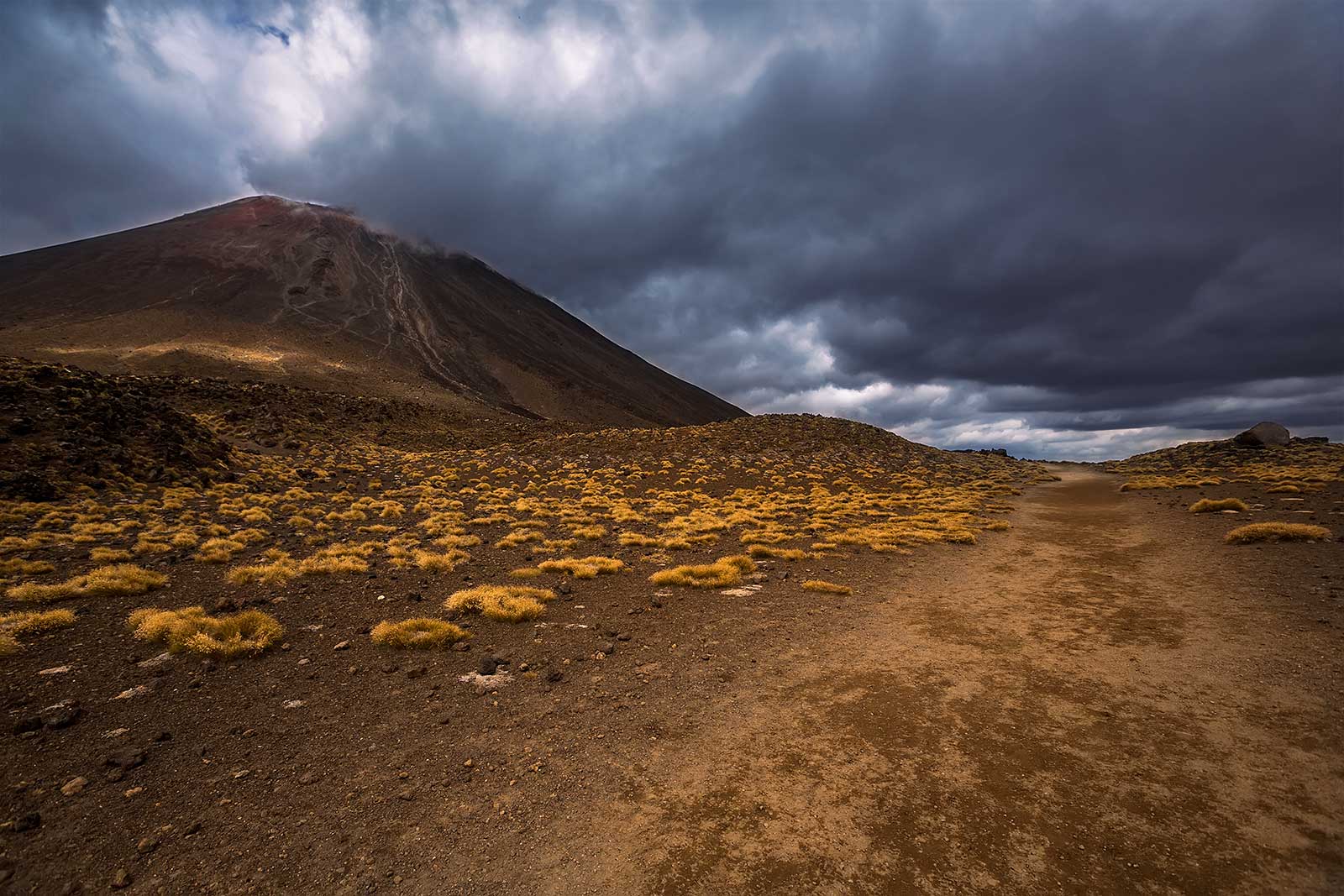 South Crater to Red Crater (45 minutes to 1 hour).
You follow the route to a ridge leading put to the Red Crater. It's not really a crater but basin. Looking in, you'll see the very unusual formation. Yeah well, we all can guess what it reminds you of, but lets just leave it at that… From here, you can take the trip to the summit of Mt. Tongariro. I left that one out since my legs where already shaky at that point.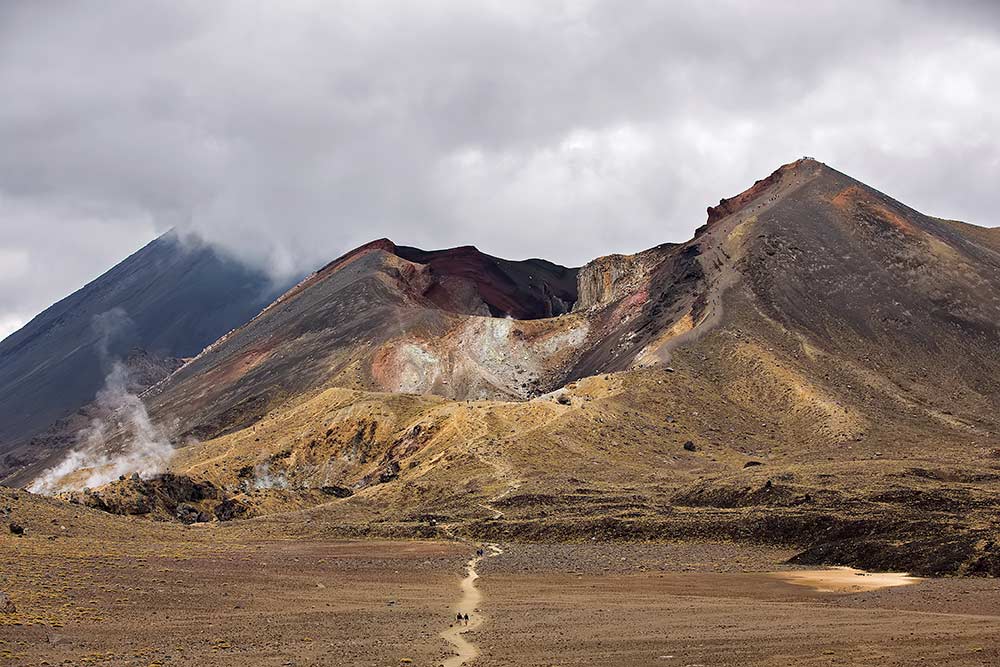 Red Crater to Emerald Lakes (15 minutes).
The summit of the Red Crater is the highest point during the Crossing. From here, it continuously descends. From the Red Crater to the Emerald Lakes the terrain is very lose again and you really have to watch your step carefully.
Emerald Lakes to Ketetahi Hut (1 hour to 1 and a half hour).
The Crossing continues to the Blue Lake and the track slides around the flanks of the North Crater and then defends to Ketetahi Hut. This is was the first time when my legs really started getting to me…
Ketetahi Hut to Ketetahi Car Park (1 and a half to 2 hours).
Continue along the track which defends through tussock slopes to the forest bush line. You'll be surprised by the quick scenery change, which is a lovely sight at the end of the track again. Still, these last 2 hours where the hardest ones for me. I just wanted it all to come to an end…